NORMARK STORM RATTLIN CHUG BUG 3/8oz 3 1/4 BLEEDING PEARL Md#: CB08-1307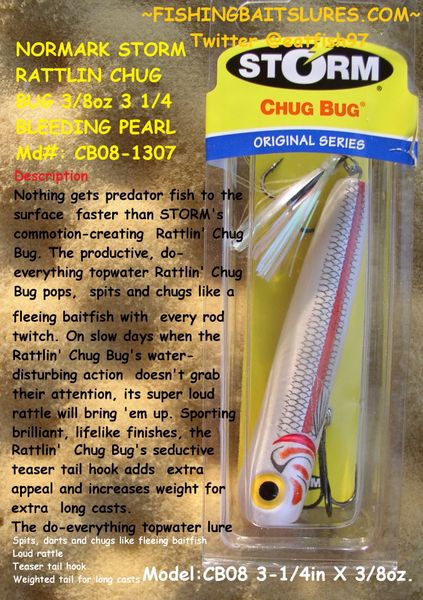 NORMARK STORM RATTLIN CHUG BUG 3/8oz 3 1/4 BLEEDING PEARL Md#: CB08-1307
NORMARK STORM RATTLIN CHUG BUG 3/8oz 3 1/4 BLEEDING PEARL Md#: CB08-1307

Description:

Nothing gets predator fish to the surface faster than STORM's commotion-creating Rattlin' Chug Bug. The productive, do-everything topwater Rattlin' Chug Bug pops, spits and chugs like a fleeing baitfish with every rod twitch. On slow days when the Rattlin' Chug Bug's water-disturbing action doesn't grab their attention, its super loud rattle will bring 'em up. Sporting brilliant, lifelike finishes, the Rattlin' Chug Bug's seductive teaser tail hook adds extra appeal and increases weight for extra long casts.
The do-everything top water lure. Spits, darts and chugs like fleeing bait fish. Weighted tail for long casts. Loud rattle. Teaser tail hook.
Size: 3/8oz
Color: BLEEDING PEARL

Manufacturer: Normark
Model: CB08-1307

UPC:039984918070
Remember FREE Shipping on orders of $25 or more!