NEW QUANTUM SL100HPT SMOKE PT BAIT CAST REEL sl100Hpt 8BB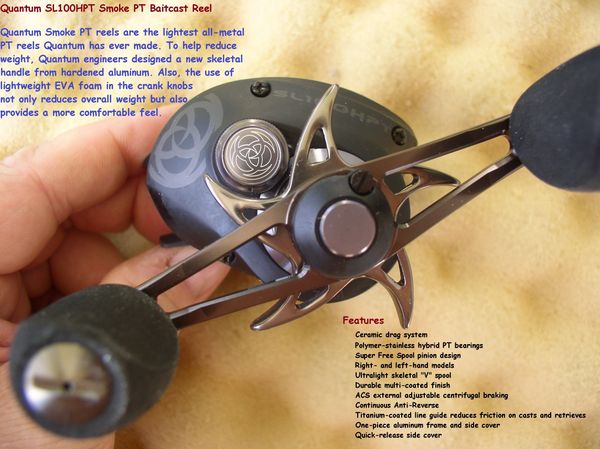 NEW QUANTUM SL100HPT SMOKE PT BAIT CAST REEL sl100Hpt 8BB
NEW QUANTUM SL100HPT SMOKE PT BAIT CAST REEL sl100Hpt 8BB
FOLLOW ME ON TWITTER
Typically ships within 1 to 4 Hours!
FOLLOW ME ON TWITTER 
Quantum Smoke PT reels are the lightest all-metal PT reels Quantum has ever made. To help reduce weight, Quantum engineers designed a new skeletal handle from hardened aluminum. Also, the use of lightweight EVA foam in the crank knobs not only reduces overall weight but also provides a more comfortable feel.
UPC:032784601074
MORE LOW PROFILE BAIT CAST REELS FROM LAND OF LURES  
Features      
    Ceramic drag system
    Polymer-stainless hybrid PT bearings
    Super Free Spool pinion design
    Right- and left-hand models
    Ultralight skeletal "V" spool
    Durable multi-coated finish
    ACS external adjustable centrifugal braking
    Continuous Anti-Reverse
    Titanium-coated line guide reduces friction on casts and retrieves
    One-piece aluminum frame and side cover
    Quick-release side cover
Kevin VanDam's 2018 Quantum reel setup on tour - Bassmaster Elite Series   
Technology
      
    Maximum Control: Quantum's exclusive ACS system is now the cast control standard because it's the most accurate braking system ever designed for bait cast reels. The external dial allows you to adjust the centrifugal brakes to perfectly match your fishing situation, without having to disassemble the reel.
    "Burner" 7.0:1 Gears: Available in every PT bait cast series, our ultra-high-speed "Burner" gear system allows you to rip your bait back to the boat faster so you can cover more water, targeting the hot spots more effectively in a shorter period of time.
    Pour On The Sauce: Quantum Hot sauce contains a special, proprietary blend of synthetic and organic additives to provide the ultimate balance in performance, protection, durability, and smoothness in both grease and oil for all fishing equipment.
    Customized Bearings: Most reels use stock bearings made for other applications. Not ours. We designed our own high-grade stainless bearings to exact specs to minimize vibration and friction. Then we fit them in a special polymer cage for added sensitivity and corrosion protection.
    Ceramics Take The Heat: PT drag systems feature ceramic washers to dissipate heat during long runs. We also use ceramics to reduce wear in our bait cast level wind systems.
    Unyielding Metal Construction: All PT reels begin with single-piece aluminum frames, each machined with computer-guided precision, to hold all critical components in perfect alignment. We use special high-strength grades of aluminum to yield lightweight reels that will not flex even during heavy cranking.
PRICES ARE BASED ON WHAT I PAY + $0.50 PER ITEM, SO PRICES MAY VARY FROM ORDER TO ORDER THANK YOU KEN