MUSTAD #3407SS-DT 6/0 X Qty-5 O'Shaughnessy 2 EXTRA STRONG HOOK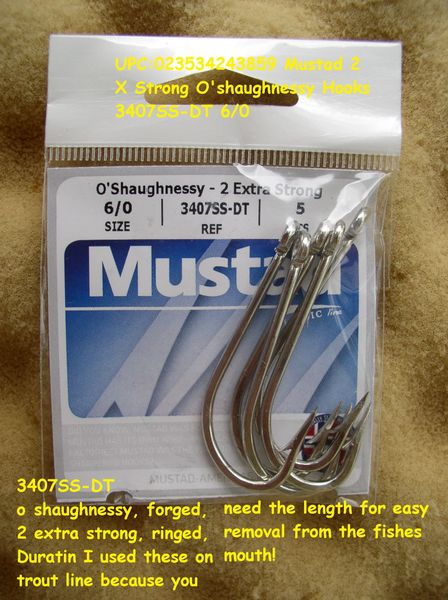 MUSTAD #3407SS-DT 6/0 X Qty-5 O'Shaughnessy 2 EXTRA STRONG HOOK
MUSTAD #3407SS-DT 6/0 X Qty-5 O'Shaughnessy 2 EXTRA STRONG HOOK

Description:

Title Saltwater O'shaugnessy Hooks Forged, ringed, bronzed.
Mustad Hooks cover a broad range of fishing uses and are backed by quality manufacturing. Mustad goes to great lengths in designing and developing hook patterns to suit a variety of fishing situations. Choose the Mustad Hook that best fits your fishing needs, and fish with confidence. Features of the Mustad O'Shaughnessy Hook – Model 3407DT include forged and a ringed eye. Forged Ringed eye Three-stage computer-controlled tempering process for strength. UPC:023534243859, UPC:023534056305, UPC:023534243873
Remember FREE Shipping on orders of $25 or more!