Mr. Crappie #MRCK-8 72 Fishing Hook Assortment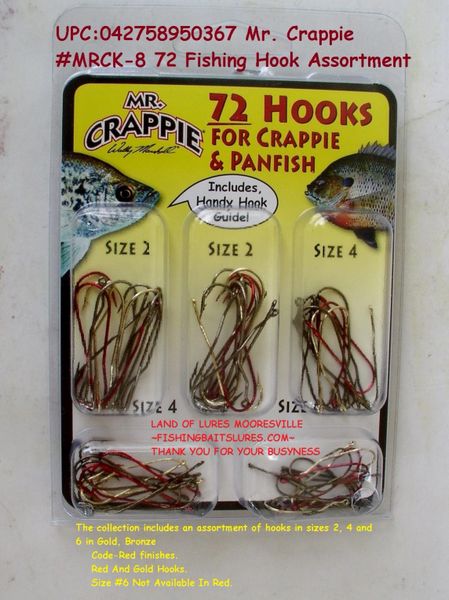 Mr. Crappie #MRCK-8 72 Fishing Hook Assortment
Mr. Crappie #MRCK-8 72 Fishing Hook Assortment
FOLLOW ME ON TWITTER
Typically ships within 1 to 4 Hours!
Description:

(Sizes 2,4,6) for Panfish,Crappie
A collection of 88 hooks specially made to catch crappies and panfish. They're engineered to bend, not break, so you can fish the kind of cover panfish like to hide in with confidence. Unique Cam-Action significantly increases your hook-to-bite ratio. UPC:042758950367
Feature : 

Mr. Crappie MRCK-8 Bronze Gold Red 72 Piece Hook Kit
    The collection includes an assortment of hooks in sizes 2, 4 and 6 in Gold, Bronze
    Code-Red finishes.
    Red And Gold Hooks.
    Size #6 Not Available In Red.
Specifications:
Brand: Mr. Crappie
Manufacturer Part Number: MRCK-8
Manufacturer: Tru-Turn
PRICES ARE BASED ON WHAT I PAY + $0.50 PER ITEM, SO PRICES MAY VARY FROM ORDER TO ORDER THANK YOU KEN