Mister Landscaper 360 Rose/90/Center Strip 10 GPH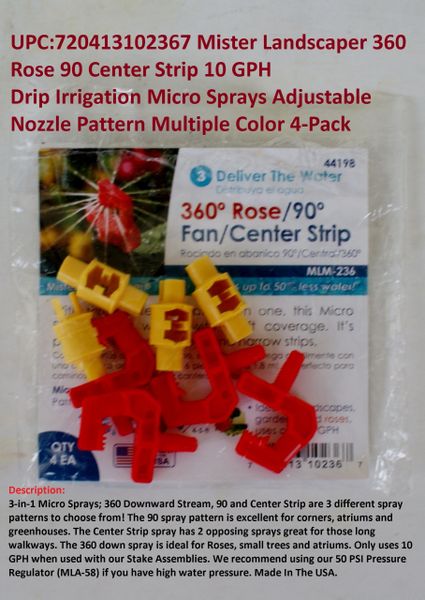 Mister Landscaper 360 Rose/90/Center Strip 10 GPH
Mister Landscaper 360 Rose/90/Center Strip 10 GPH
Description:
Drip Irrigation Micro Sprays Adjustable Nozzle Pattern Multiple Color 4-Pack
3-in-1 Micro Sprays; 360 Downward Stream, 90 and Center Strip are 3 different spray patterns to choose from! The 90 spray pattern is excellent for corners, atriums and greenhouses. The Center Strip spray has 2 opposing sprays great for those long walkways. The 360 down spray is ideal for Roses, small trees and atriums. Only uses 10 GPH when used with our Stake Assemblies. We recommend using our 50 PSI Pressure Regulator (MLA-58) if you have high water pressure. Made In The USA.  UPC:720413102367  FOLLOW ME AT TWITTER
MORE HOME/GARDEN FROM LAND OF LURES
Remember FREE Shipping on orders of $25 or more!