MIRROLURE SUSPENDING TWITCH BAIT 20MR CATCH 2000 3.5 INCH X 1/2 OZ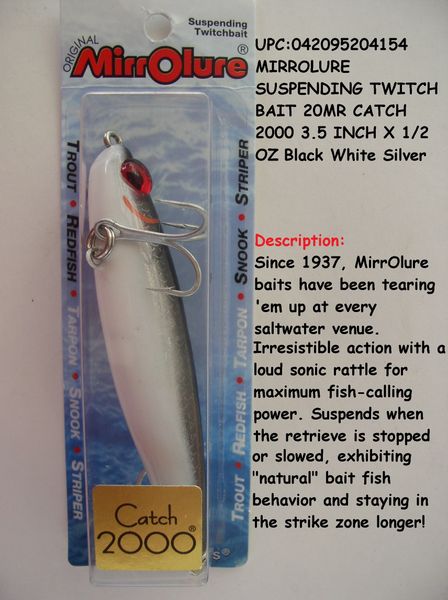 MIRROLURE SUSPENDING TWITCH BAIT 20MR CATCH 2000 3.5 INCH X 1/2 OZ
MIRROLURE SUSPENDING TWITCH BAIT 20MR CATCH 2000 3.5 INCH X 1/2 OZ
Description:
Since 1937, MirrOlure baits have been tearing 'em up at every saltwater venue.
Irresistible action with a loud sonic rattle for maximum fish-calling power. Suspends when the retrieve is stopped or slowed, exhibiting "natural" bait fish behavior and staying in the strike zone longer! UPC: 042095204215, UPC:042095204079, UPC:042095204154
Remember FREE Shipping on orders of $25 or more!