MIRROLURE SERIES 3 SINKER 1/2oz BLACK/CHART (Features twin line attachments)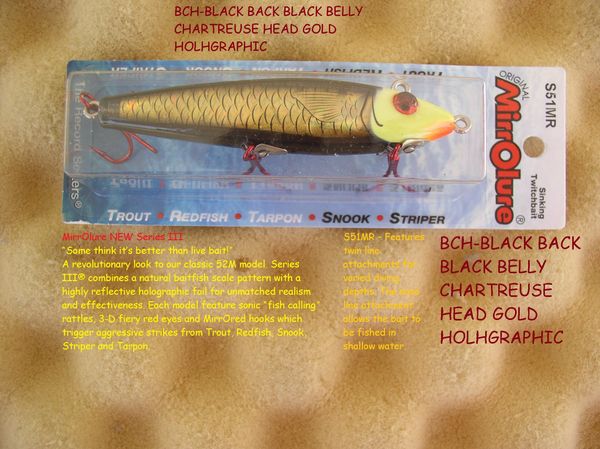 MIRROLURE SERIES 3 SINKER 1/2oz BLACK/CHART (Features twin line attachments)
MIRROLURE SERIES 3 SINKER 1/2oz BLACK/CHART (Features twin line attachments)

Description:
MirrOlure NEW Series III
"Some think it's better than live bait!"
A revolutionary look to our classic 52M model. Series III combines a natural bait fish scale pattern with a highly reflective holographic foil for unmatched realism and effectiveness. Each model feature sonic "fish calling" rattles, 3-D fiery red eyes and MirrOred hooks which trigger aggressive strikes from Trout, Red fish, Snooker, Stripper and Tarpon. UPC:042095513423

S51MR – Features twin line attachments for varied diving depths. The nose line attachment allows the bait to be fished in shallow water.
S52MR – A "coastal classic" with a sink rate of a foot per second. Great lure for fishing the beaches, deep grass flats or channels. Precise weight distribution and body design creates life-like action for terrific results.
Remember FREE Shipping on orders of $25 or more!