MIRROLURE SERIES 3 CHART SILVER BLUE STTR CHBL (It can be cast or trolled)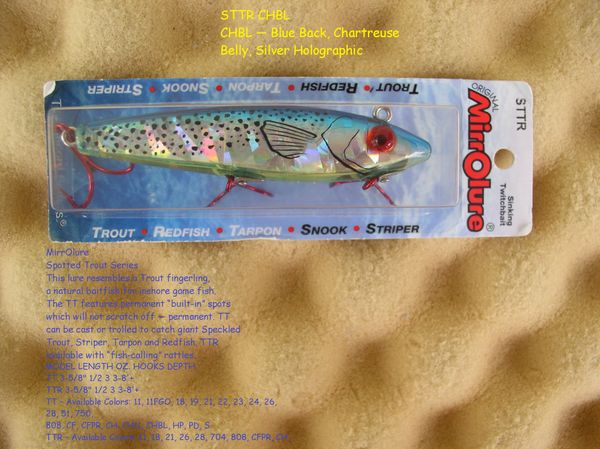 MIRROLURE SERIES 3 CHART SILVER BLUE STTR CHBL (It can be cast or trolled)
MIRROLURE SERIES 3 CHART SILVER BLUE STTR CHBL (It can be cast or trolled)
Description:
A replica of a trout fingerling which Trout, Red fish, Snooker, Stripper and Tarpon find irresistible. STTR has a greater sink rate than S52MR, which allows it to dive deeper. It can be cast or trolled.  UPC:042095023151, UPC:042095023403
SPECS: STTR-CHBL CHART/SILVER/BLUE
Color: CHART/SILVER/BLUE OR PINK/SILVER/CHART
Type: Dives 3-8'
Size: 1/2oz
Length: 3-5/8"
MORE TWITCHBAITS FROM LAND OF LURES 

PRICES ARE BASED ON WHAT I PAY + 10% PER ITEM, SO PRICES MAY VARY FROM ORDER TO ORDER THANK YOU KEN