MEPPS AGLIA SPINNER BAITS WORLD'S # 1 LURE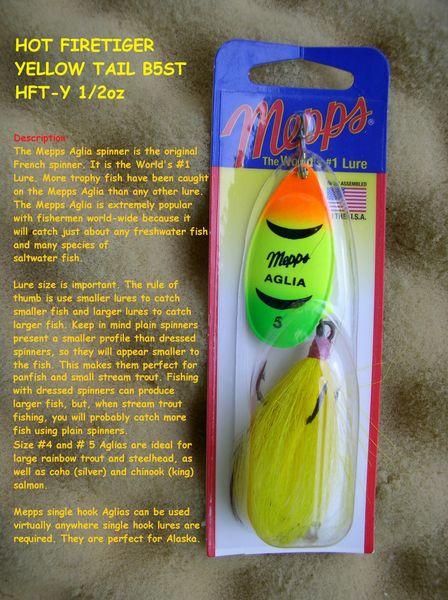 MEPPS AGLIA SPINNER BAITS WORLD'S # 1 LURE
MEPPS AGLIA SPINNER BAITS WORLDS # 1 LURE

DESCRIPTION
More record fish have been caught on Mepps lures than any other fishing lure - more than all other spinners combined! Our 5000+ spinners and spoons are still hand-made to the same high quality standards that three generations of fishermen have grown to expect.
UPC:022141060002, UPC:022141061894, UPC:022141045030, UPC:022141059372, UPC:022141058412, UPC:022141050928, UPC:022141058337
HAVE MORE HERE: http://www.ebay.com/itm/MEPPS-WORLD-ONE-LURE-SPINNER-BAITS-BASS-BAIT-AGLIA-BLACK-FURY-AND-COMET-MINO-/251706291158?

Mepps Aglias in sizes #3 and #4 are preferred by large mouth bass fishermen. In fact, the #3 dressed Mepps Aglia was rated the best all around lure for largemouth bass by the readers of Sports Afield magazine.

Size #4 and #5 Aglias are ideal for large rainbow trout and steel head, as well as coho (silver) and Chinook (king) salmon. Northern pike and giant tackle busting musky will inhale a dressed #5 Mepps spinner.

Remember FREE Shipping on orders of $25 or more!