MEPPS AGLIA LONG WITH CLASSIC WILLOW LEAF BLADE 1/2oz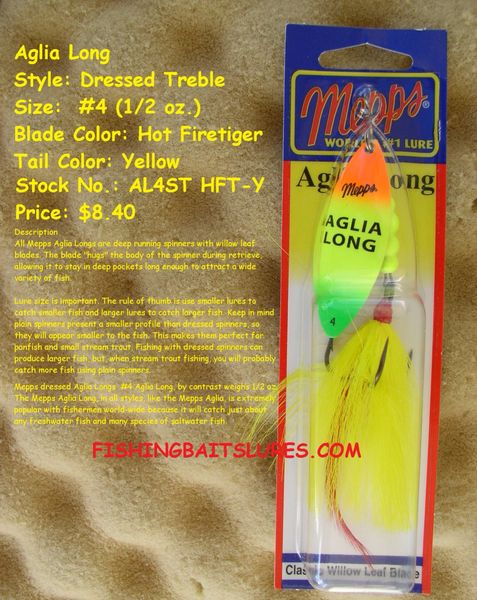 MEPPS AGLIA LONG WITH CLASSIC WILLOW LEAF BLADE 1/2oz
MEPPS AGLIA LONG WITH CLASSIC WILLOW LEAF BLADE 1/2oz
FOLLOW ME ON TWITTER 
Aglia Long
Style: Dressed Treble
Size:  #4 (1/2 oz.)
Blade Color: Hot Firetiger
Tail Color: Yellow
Stock No.: AL4ST HFT-Y
Price: $840

Description
All Mepps Aglia Longs are deep running spinners with willow leaf blades. The blade "hugs" the body of the spinner during retrieve, allowing it to stay in deep pockets long enough to attract a wide variety of fish. UPC:022141133027, UPC:022141127989, UPC:022141132167

Lure size is important. The rule of thumb is to use smaller lures to catch smaller fish and larger lures to catch larger fish. Keep in mind plain spinners present a smaller profile than dressed spinners, so they will appear smaller to the fish. This makes them perfect for panfish and small stream trout. Fishing with dressed spinners can produce larger fish, but, when streaming trout fishing, you will probably catch more fish using plain spinners.
Mepps dressed Aglia Longs  #4 Aglia Long, by contrast, weighs 1/2 oz. The Mepps Aglia Long, in all styles, like the Mepps Aglia, is extremely popular with fishermen worldwide because it will catch just about any freshwater fish and many species of saltwater fish.

MORE MEPPS FROM LAND OF LURES  
8 Reasons why the Mepps Aglia Long helps you catch more fish
The Mepps Aglia Long features unsurpassed Mepps quality throughout. Here are eight reasons why the Mepps Aglia Long will help you catch more fish:

1.Strong and durable, imperfection-free, Swedish Sandvic stainless steel shaft wound and clipped in a manner to securely hold the entire lure together. Sandvic stainless steel is of the highest quality and will not break, rust or corrode even after repeatedly landing fish.
2. Precisely machined, solid brass components are perfectly balanced to maintain maximum stability at all retrieval speeds. Poured components do not possess the same uniformity and lack the ability to perform as consistently as those that are machined.
3. Genuine silver plating with a meticulously-applied, tarnish-resistant, epoxy clear-coat finishes for one bright flash after another as the lure is pulled through the water. The flash produced by inferior metals such as nickel or chrome is not nearly as bright or as white in color as silver under the same conditions.
4. Water-activated, self-lubricating, folded clevis allows the blade to begin spinning freely as soon as the lure hits the water. A folded clevis not only out-performs a stir-up style clevis, but it is also much stronger and far more durable as well.
5. Naturally deep-running, willow-leaf shaped blade featuring a unique rainbo-scale decal. The decal reflects a prism of light containing all shades of the color spectrum, much like the scales on a fish, as the blade spins in the water.
6.Extra-strong, razor-sharp, perfectly-honed premium quality hook to achieve the highest hooking percentage possible. Using a bigger and stronger hook also significantly increases the lure's ability to keep a big fish on and get it into the boat.
7. Exclusive, unbreakable strike-attractor bead (and/or tube) entices more fish to strike. The "hot spot" created by the bead (and/or tube) gives the fish a specific spot to target as it closes in for the strike.
8.Hand-tied, premium-grade bucktail dressed treble hook secured by the strongest of waterproof epoxies for outstanding durability even after repeated use. A turkey quill strike attractor provides just enough contrast to entice the weariest of fish to strike.
History of Mepps Fishing Lures   

PRICES ARE BASED ON WHAT I PAY + $0.50 PER ITEM, SO PRICES MAY VARY FROM ORDER TO ORDER THANK YOU KEN