MEPPS AGLIA (B3ST HOC-BR) DRESSED TREBLE HOOK SPINNERS SIZE-3 1/4 OZ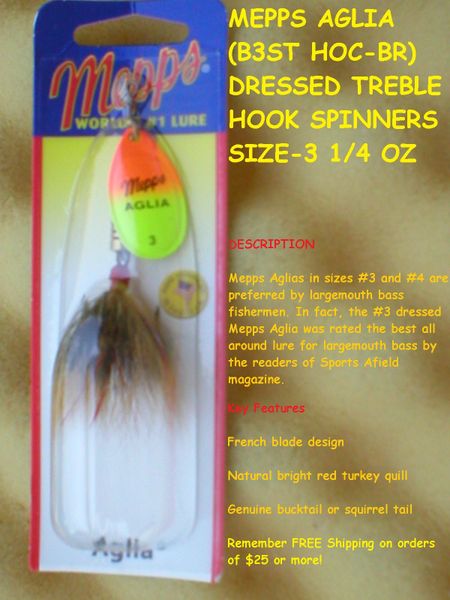 MEPPS AGLIA (B3ST HOC-BR) DRESSED TREBLE HOOK SPINNERS SIZE-3 1/4 OZ
MEPPS AGLIA (B3ST HOC-BR) DRESSED TREBLE HOOK SPINNERS SIZE-3 1/4 OZ
DESCRIPTION

Mepps Aglias in sizes #3 and #4 are preferred by largemouth bass fishermen. In fact, the #3 dressed Mepps Aglia was rated the best all around lure for largemouth bass by the readers of Sports Afield magazine.
UPC:022141042220
Key Features

French blade design
Natural bright red turkey quill
Genuine bucktail or squirrel tail
Remember FREE Shipping on orders of $25 or more!