MEPPS AGLIA (B1ST C-BR) DRESSED TREBLE HOOK SPINNERS SIZE-1 1/8 OZ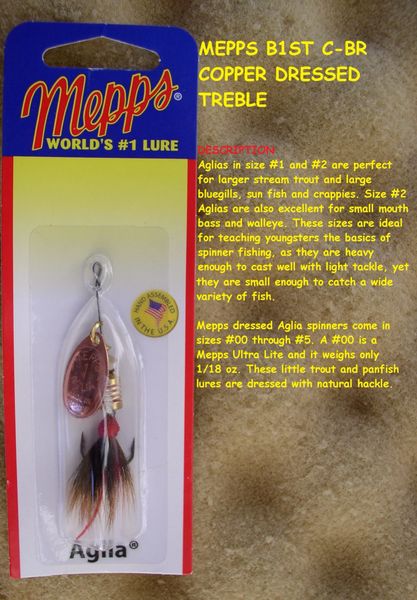 MEPPS AGLIA (B1ST C-BR) DRESSED TREBLE HOOK SPINNERS SIZE-1 1/8 OZ
MEPPS AGLIA (B1ST C-BR) DRESSED TREBLE HOOK SPINNERS SIZE-1 1/8 OZ

DESCRIPTION
Aglias in size #1 and #2 are perfect for larger stream trout and large bluegills, sun fish and crappies. Size #2 Aglias are also excellent for small mouth bass and walleye. These sizes are ideal for teaching youngsters the basics of spinner fishing, as they are heavy enough to cast well with light tackle, yet they are small enough to catch a wide variety of fish.

UPC:022141030210
Mepps dressed Aglia spinners come in sizes #00 through #5. A #00 is a Mepps Ultra Lite and it weighs only 1/18 oz. These little trout and panfish lures are dressed with natural hackle.

Remember FREE Shipping on orders of $25 or more!