MAGIC PRESERVED CUT SHAD IT WORKS AWESOME FOR JUG/TROUT LINE RIGS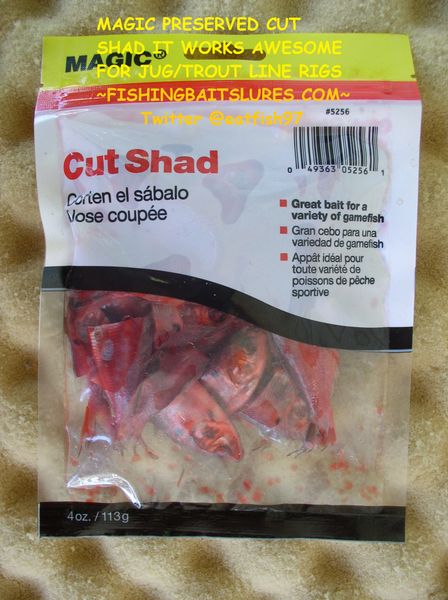 MAGIC PRESERVED CUT SHAD IT WORKS AWESOME FOR JUG/TROUT LINE RIGS
MAGIC PRESERVED CUT SHAD IT WORKS AWESOME FOR JUG/TROUT LINE RIGS
FOLLOW ME ON TWITTER 
Description

Live bait is extremely effective when it comes to catching fish, but keeping it on hand for convenient access isn't always easy. These all-natural alternatives deliver all the benefits of live bait without the mess and hassle. Each bait comes in a resealable package that doesn't require refrigeration, so you can always have access to the bait you need. Natural coloration, scent and texture encourage strikes and causes fish to hang on longer than artificial lures. That gives you the time you need to set the hook with authority. 
Size: 4 oz.
UPC:049363052561, UPC:049363052554
Remember FREE Shipping on orders of $25 or more!