LUNKERHUNT PROP SERIES COMBO #PROPTRCOM01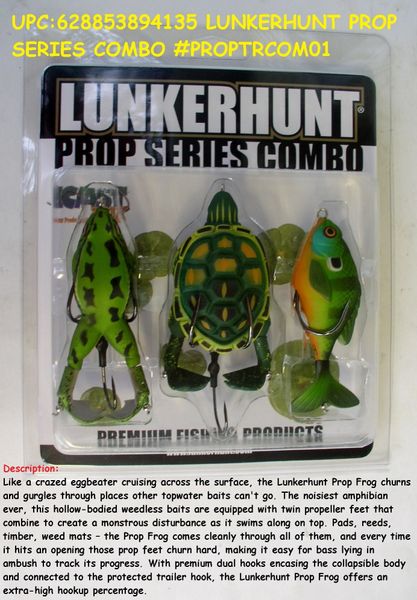 LUNKERHUNT PROP SERIES COMBO #PROPTRCOM01
LUNKERHUNT PROP SERIES COMBO #PROPTRCOM01
Description:
Like a crazed eggbeater cruising across the surface, the Lunkerhunt Prop Frog churns and gurgles through places other topwater baits can't go. The noisiest amphibian ever, this hollow-bodied weedless baits are equipped with twin propeller feet that combine to create a monstrous disturbance as it swims along on top. Pads, reeds, timber, weed mats – the Prop Frog comes cleanly through all of them, and every time it hits an opening those prop feet churn hard, making it easy for bass lying in ambush to track its progress. With premium dual hooks encasing the collapsible body and connected to the protected trailer hook, the Lunkerhunt Prop Frog offers an extra-high hookup percentage.  UPC:628853894135

MORE LUNKERHUNT FROM LAND OF LURES   

Noisiest hollow-bodied baits ever
Unique twin propeller feet
Strong churning, gurgling, splashing action
Weedless design
Premium dual hooks encase the collapsible body
Protected trailer hook
Superior hookup ratio
Remember FREE Shipping on orders of $25 or more!