LUCKY CRAFT Jerk Bait / STAYSEE 90SP Version 2 TABLE ROCK SHAD
LUCKY CRAFT Jerk Bait / STAYSEE 90SP Version 2 TABLE ROCK SHAD
LUCKY CRAFT Jerk Bait / STAYSEE 90SP Version 2 TABLE ROCK SHAD OR FLAKE FLAKE GOLDEN SUN FISH
FOLLOW ME ON TWITTER 
The STAYSEE 90SP is a very special bass attracting jerk-bait. Unlike many jerk-baits that are ripped across the surface of the water, this bait is fished 8-10 feet below the surface with a perfect nose-down and suspend retrieve. The STAYSEE 90SP is equipped with a unique combination of rattles, which create the gravity suspending action and permits long casts. The STAYSEE 90SP is available in eight colors making this suspending jerk-bait a very effective and exciting lure.
UPC:802897182612, UPC:802897661803

Length: 3-1/2 (91mm)
Weight: 7/16oz (12.5g)
Class: Suspending
Belly: #6
Hook Tail: #6
Max Diving Depth: 9-10 ft
Line: 10-12 lbs
Remember FREE Shipping on orders of $25 or more!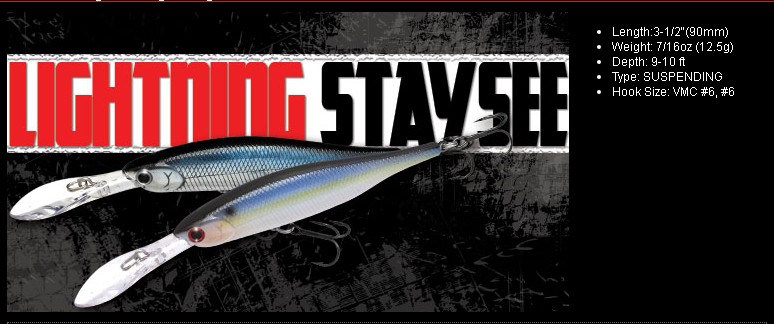 Length:3-1/2"(90mm)
Weight: 7/16oz (12.5g)
Depth: 9-10 ft
Type: SUSPENDING
Hook Size: VMC #6, #6
The Staysee was produced to creep towards bass with a pumping retrieve, pausing for a long time to irritate them during the spawning season when females are still protecting their bed. The suitability of the Staysee for slow fishing achieved by a pumping retrieve comes from the tight rolling action produced from the beautiful body shape and lip angle. Only the Staysee makes it possible to get close to and attract bass in medium shallow water without causing alarm through its detailed vibration and biomechanical movement. UPC:802897661803