LIVE TARGET YEARLING BAIT BALL JERK BAIT SILVER/BLACK 4 1/4in X 1/2oz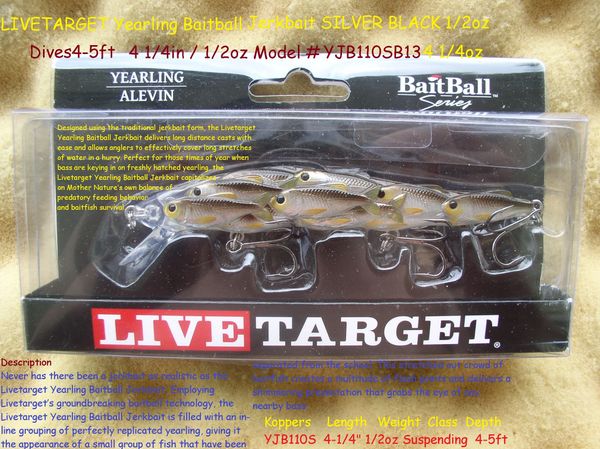 LIVE TARGET YEARLING BAIT BALL JERK BAIT SILVER/BLACK 4 1/4in X 1/2oz
LIVE TARGET YEARLING BAIT BALL JERK BAIT SILVER/BLACK 4 1/4in X 1/2oz

Description
Never has there been a jerkbait as realistic as the Livetarget Yearling Baitball Jerkbait. Employing Livetarget's groundbreaking baitball technology, the Livetarget Yearling Baitball Jerkbait is filled with an in-line grouping of perfectly replicated yearling, giving it the appearance of a small group of fish that have been separated from the school. This stretched out crowd of baitfish creates a multitude of flash points and delivers a shimmering presentation that grabs the eye of any nearby bass.

Designed using the traditional jerkbait form, the Livetarget Yearling Baitball Jerkbait delivers long distance casts with ease and allows anglers to effectively cover long stretches of water in a hurry. Perfect for those times of year when bass are keying in on freshly hatched yearling, the Livetarget Yearling Baitball Jerkbait capitalizes on Mother Nature's own balance of predatory feeding behavior and baitfish survival.

Simulates an elongated school of baitfish. Ideal when Bass, Walleye, and Northern Pike feed on small baitfish. Thin body profile, three hook design. Suspends. Silent.

Cast and retrieve the lure with varying speeds. It performs exceptionally well at slow and fast retrieves.
UPC:697713205985
Remember FREE Shipping on orders of $25 or more!