LIVETARGET MULLET WALKING BAIT 4" NATURAL/MATTE (MUW100T901)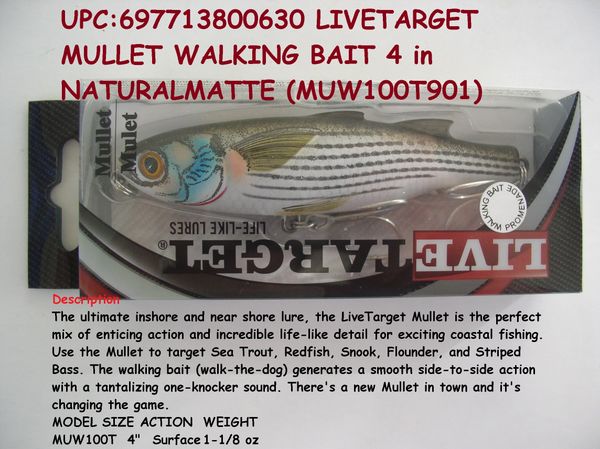 LIVETARGET MULLET WALKING BAIT 4" NATURAL/MATTE (MUW100T901)
LIVETARGET MULLET WALKING BAIT 4" NATURAL/MATTE (MUW100T901)
Description

The ultimate inshore and near shore lure, the LiveTarget Mullet is the perfect mix of enticing action and incredible life-like detail for exciting coastal fishing. Use the Mullet to target Sea Trout, Redfish, Snook, Flounder, and Striped Bass. The walking bait (walk-the-dog) generates a smooth side-to-side action with a tantalizing one-knocker sound. There's a new Mullet in town and it's changing the game.
Specifications:

MODEL SIZE ACTION WEIGHT
MUW100T 4" Surface 1-1/8 oz
Remember FREE Shipping on orders of $25 or more!