LIVETARGET KOPPERS LIVE TARGET SUNFISH HOLLOW BODY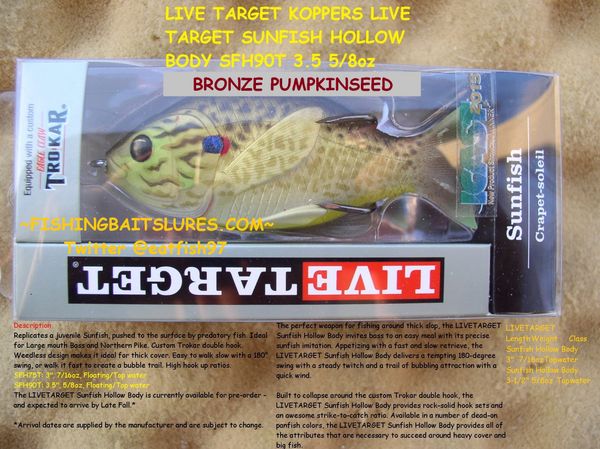 LIVETARGET KOPPERS LIVE TARGET SUNFISH HOLLOW BODY
LIVETARGET KOPPERS LIVE TARGET SUNFISH HOLLOW BODY

Description
Replicates a juvenile Sunfish, pushed to the surface by predatory fish. Ideal for Large mouth Bass and Northern Pike. Custom Trokar double hook. Weedless design makes it ideal for thick cover. Easy to walk slow with a 180° swing, or walk it fast to create a bubble trail. High hook up ratios.
UPC:697713207255, UPC:697713208610, UPC:697713207293, UPC:697713207248, UPC:697713208634, UPC:697713207262, UPC:697713208573

SFH75T: 3", 7/16oz, Floating/Top water
SFH90T: 3.5", 5/8oz, Floating/Top water

The LIVETARGET Sunfish Hollow Body is currently available for pre-order - and expected to arrive by Late Fall.*

*Arrival dates are supplied by the manufacturer and are subject to change.

The perfect weapon for fishing around thick slop, the LIVETARGET Sunfish Hollow Body invites bass to an easy meal with its precise sunfish imitation. Appetizing with a fast and slow retrieve, the LIVETARGET Sunfish Hollow Body delivers a tempting 180-degree swing with a steady twitch and a trail of bubbling attraction with a quick wind.

Built to collapse around the custom Trokar double hook, the LIVETARGET Sunfish Hollow Body provides rock-solid hook sets and an awesome strike-to-catch ratio. Available in a number of dead-on panfish colors, the LIVETARGET Sunfish Hollow Body provides all of the attributes that are necessary to succeed around heavy cover and big fish.

LIVETARGET Length Weight Class
Sunfish Hollow Body 3" 7/16oz Topwater
Sunfish Hollow Body 3-1/2" 5/8oz Topwater

SLID SHOW http://s222.photobucket.com/user/eatfish97/slideshow/soft%20baits/LIVE%20TARGET%20KOPPERS?sort=3

Remember FREE Shipping on orders of $25 or more!