LIVE TARGET 1/2 OUNCE WHITE SHRIMP SOFT PLASTIC RIGGED SHRIMP 4 INCH 2/0 HOOK ALL SALTWATER GAME FISH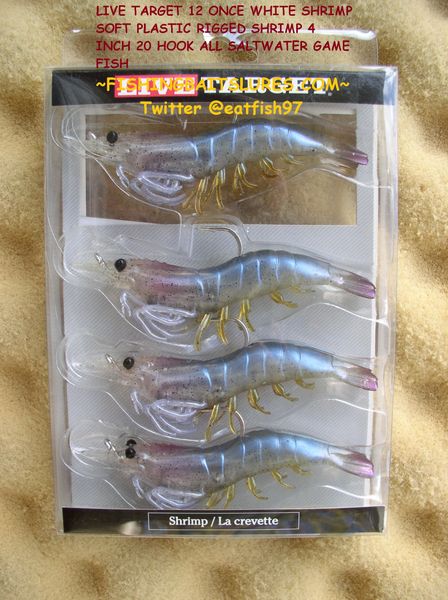 LIVE TARGET 1/2 OUNCE WHITE SHRIMP SOFT PLASTIC RIGGED SHRIMP 4 INCH 2/0 HOOK ALL SALTWATER GAME FISH
LIVE TARGET 1/2 OUNCE WHITE SHRIMP SOFT PLASTIC RIGGED SHRIMP 4 INCH 2/0 HOOK ALL SALTWATER GAME FISH
FOLLOW ME ON TWITTER 
DESCRIPTION

The Rigged Shrimp has taken the US saltwater community by storm. Shrimp are the single most important forage for all saltwater game fish including Trout, Red fish, Flounder, Snook, and Tarpon. The Rigged Shrimp is designed to mimic a live Shrimp swimming in a forward motion. It can be cast and retrieved, or fished. UPC:697713205077
Under a popping cork. A built-in rattle generates the 'clicking' sound Shrimp make while swimming. 
MORE LIVE TARGET FROM LAND OF LURES  
Comes Four Per Package
Specifications:
- Model: SSF100SK
- Type Of Water: Saltwater
- Size: 4"
- Hook Size: #2/0
- Style: Soft Plastic
- Depth: Variable
- Weight: 1/2 oz
- Color: White Shrimp
Remember FREE Shipping on orders of $25 or more!