Lew's Tournament Pro G Speed Spool LFS Series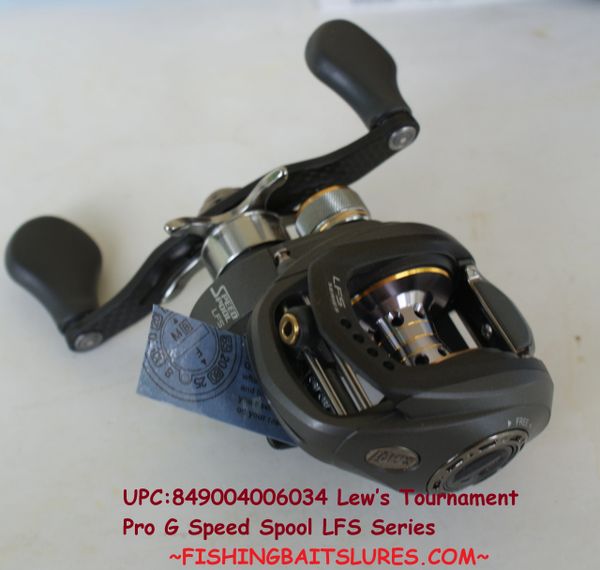 Lew's Tournament Pro G Speed Spool LFS Series
Lew's Tournament Pro G Speed Spool LFS Series

Lew's One Year Limited Warranty
Manual & Schematics
Description:
Featuring an innovative lighter, faster and stronger one-piece aluminum skeletal frame with carbon side plates, the LFS Speed Spool models lost a half-ounce in weight during the makeover to hit the scales at their new fighting weight of 6.2 ounces. The reel also incorporates two Lew's exclusive and patented innovations: the Speed Keeper hook keeper that retracts out of the way when not in use, and a Speed Dial line indicator to serve as a reminder as to what type and weight of line has been spooled. UPC:849004006034
Features:
One-piece aluminum frame
Strong, lightweight Carbon  sideplates
Machine forged double-anodized aluminum 12-hole drilled U-shape spool
Premium, double-shielded, stainless steel 11-bearing system with Zero-Reverse anti-reverse
Titanium-coated Zirconia line guide
Externally adjustable 6-pin, 27 position SpeedCast Adjustable Centrifugal Breaking (ACB) system
Double anodized aluminum spool tension adjustment with audible click
Rugged carbon fiber drag system provides up to 20lbs. of drag power
Audible click anodized aluminum bowed star drag
Bowed, lightweight 95 MM carbon fiber handle with Lew's custom SoftTouch contoured paddles
Patented Speed Dial line indicator reminds of line type and size
Exclusive patented Speed Keeper hook keeper
External lube port
Models:
MODEL BEARINGS WT. OZ. LINE CAP. GEAR RATIO RPT MSRP
TPG1H 10+1 6.2 120/12 6.8:1 28" $199.99
TPG1SH 10+1 6.2 120/12 7.5:1 31" $199.99
TPG1XH 10+1 6.2 120/12 8.3:1 35" $199.99
TPG1HL* 10+1 6.2 120/12 6.8:1 28" $199.99
Remember FREE Shipping on orders of $25 or more!