LAKE FORK TROPHY LURES LIVE MAGIC SHAD 4.5 INCH 4-PACK ALBINO SHAD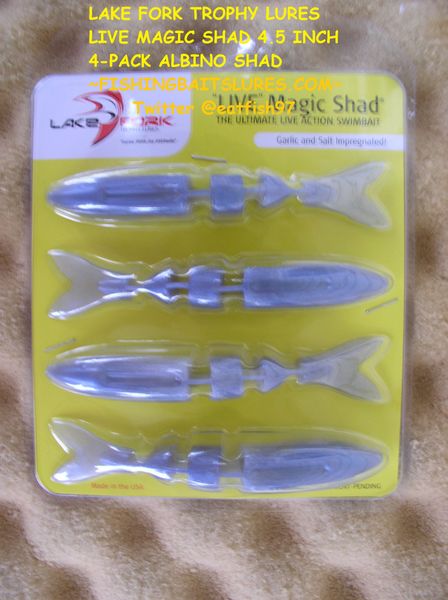 LAKE FORK TROPHY LURES LIVE MAGIC SHAD 4.5 INCH 4-PACK ALBINO SHAD
LAKE FORK TROPHY LURES LIVE MAGIC SHAD 4.5 INCH 4-PACK ALBINO SHAD

Description:

Ultimate Live Action Swim bait - The technically advanced design allows for a live action swimming motion of a live fleeing bait fish. Versatile with seven rigging options: Weightless, Texas Rig, Carolina Rig, Drop Shot Rig, Wacky Rig, Nail Rig, Jig Head Rig.
UPC:642204913306
The Magic Shad is an irresistible likeness of the real thing with its natural shad body and a unique spade-shaped tail that sets up a vibration when the lure is retrieved, or even on the fall. Rigging the Magic Shad is no trick with its special molded-in hook slot that allows for easy rigging of a jig head or worm hook. The concealed hook makes the lure virtually weed less for fishing heavy cover. The Magic Shad is garlic& salt impregnated which entices the fish to hold onto the lure longer for more hook sets. 4 count pack
Remember FREE Shipping on orders of $25 or more!