KVD PERFECT PLASTICS SWIM N CAFFEINE SHAD SCSD4 7-PK 4in GHOST SHAD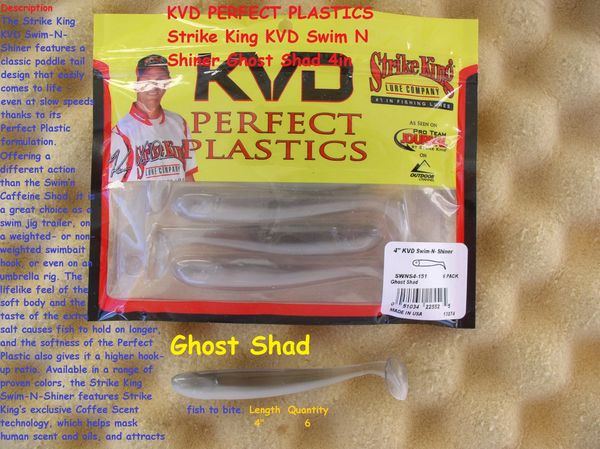 KVD PERFECT PLASTICS SWIM N CAFFEINE SHAD SCSD4 7-PK 4in GHOST SHAD
KVD PERFECT PLASTICS SWIM N CAFFEINE SHAD SCSD4 7-PK 4in GHOST SHAD

DESCRIPTION
Strike King Swim'N Caffeine Shad Strike King's Perfect Plastics are the softest, saltiest plastic lures ever produced and feature Strike King's exclusive coffee scent (patent pending). These baits contain the world's best blend of soft plastic ingredients! This allows the use of large amounts of salt, yet keep the bait soft, pliable and fish able. Coffee adds to the appeal as it masks human scents and oils and causes added bites and longer hold times which increase your hook-up chances. The Swim'N Caffeine Shad has the same body as the Caffeine Shad, but rather then a bubble tail it has a swim bait tail. 7 per pack.
Remember FREE Shipping on orders of $25 or more!