KILLER BEE PREMIUM BRINED SHRIMP BAIT #223017 4 OZ PACK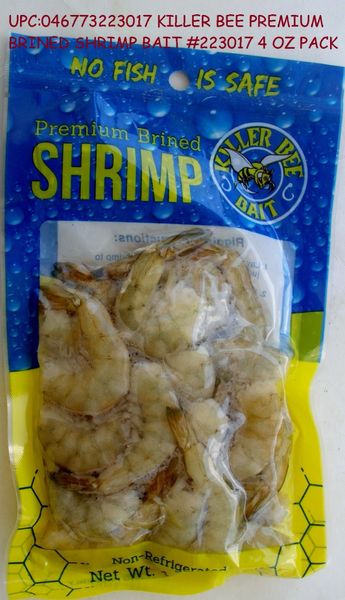 KILLER BEE PREMIUM BRINED SHRIMP BAIT #223017 4 OZ PACK
KILLER BEE PREMIUM BRINED SHRIMP BAIT #223017 4 OZ PACK
FOLLOW ME ON TWITTER
Typically ships within 1 to 4 Hours!
Description:

Killer Bee Bait is "Bait with Attitude." Premium brined shrimp are non-refrigerated bait. Great for bass, catfish, trout, muskie, walleye, panfish and all other bottom feeding species. Net weight is four oz. 
UPC:046773223017
Killer Bee Premium Brined Shrimp, 4 oz:
Killer Bee Bait
Premium brined 4 oz
Specifications
Condition New
Manufacturer Part Number 223-017
Fishing Location Saltwater
Model 223-017
Brand Killer Bee
Assembled Product Dimensions (L x W x H)
3.00 x 5.00 x 8.50 Inches
PRICES ARE BASED ON WHAT I PAY + 10% PER ITEM, SO PRICES MAY VARY FROM ORDER TO ORDER THANK YOU KEN