KEITECH CRAZY FLAPPER 4.4in (SQUID SCENT) CRAW TYPE BAIT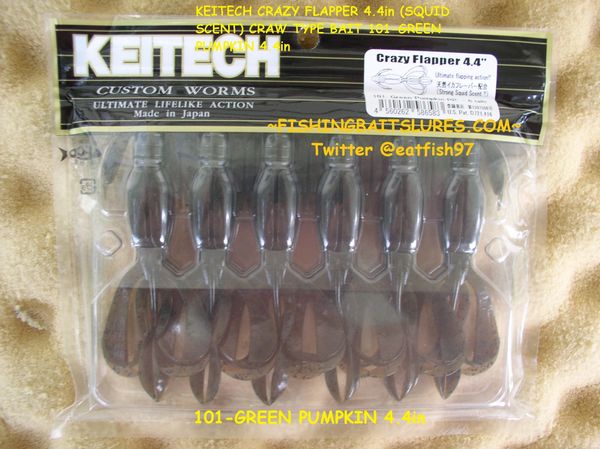 KEITECH CRAZY FLAPPER 4.4in (SQUID SCENT) CRAW TYPE BAIT
KEITECH CRAZY FLAPPER 4.4in (SQUID SCENT) CRAW TYPE BAIT

Description

Keitech is proud to announce the release of our 1st. craw-type bait called the " Crazy Flapper". The "Crazy Flapper" is available in 3 sizes. The 3.6" & 4.4" are available now, and the 2.8" arrived in April '15. The "Keitech Crazy Flapper" can be Texas rigged, used on the Dropshot and makes a great Jig trailer. The "Crazy Flapper" is dual injected using different types of PVC plastics. This gives the "Flapper" the perfect combination of softness and durability. The secret to its effectiveness is the "Crazy Flapper's" patent pending design. Its body design slithers through cover while the claws and tentacles flutter seductively following the slightest movement. This allows the angler to use less weight, slow down the fall and keep the bait in the strike zone longer.
Keitech Crazy Flapper Features:
PVC material with squid scent
Great for Texas rig, Carolina rig and Jig trailer
UPC: 4560262586583
The 2.8-inch Keitech Crazy Flapper has 8 baits per pack
The 3.6-inch Keitech Crazy Flapper has 7 baits per pack
The 4.4-inch Keitech Crazy Flapper has 6 baits per pack
DO NOT FORGET HOOKS http://fishingbaitslures.com/products?keywords=Worm+Hook

VIDEO-
http://www.keitechusa.com/catalog/action-video.php?id=Ys8Z44eFsYQ

Remember FREE Shipping on orders of $25 or more!