JOHNSON SILVER MINNOW 3/4oz X 2-3/4in WEEDKESS SPOON #SM3/4-GOLD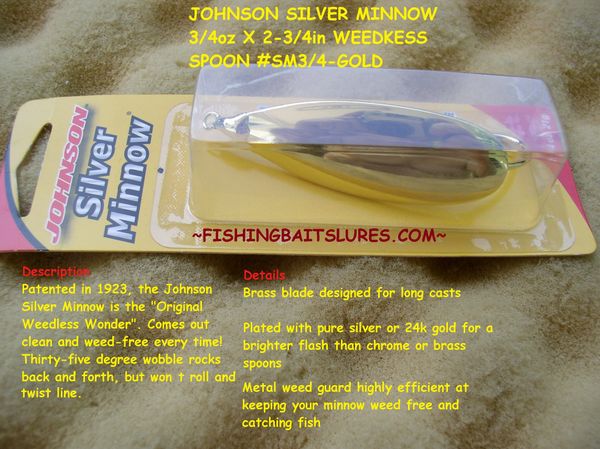 JOHNSON SILVER MINNOW 3/4oz X 2-3/4in WEEDKESS SPOON #SM3/4-GOLD
JOHNSON SILVER MINNOW 3/4oz X 2-3/4in WEEDKESS SPOON #SM3/4-GOLD

Description
Patented in 1923, the Johnson Silver Minnow is the "Original Weedless Wonder". Comes out clean and weed-free every time! Thirty-five degree wobble rocks back and forth, but won't roll and twist line.
Details
Brass blade designed for long casts
Plated with pure silver or 24k gold for a brighter flash than chrome or brass spoons
Metal weed guard highly efficient at keeping your minnow weed free and catching fish
UPC:22021501007
Remember FREE Shipping on orders of $25 or more!