IHIP TEMPERED GLASS HD SCREEN PROTECTOR SHATTER AND SCRATCH RESISTANT - IPHONE 5/5S/5C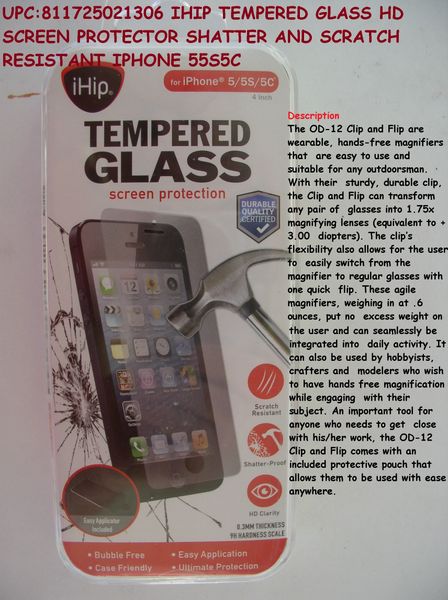 IHIP TEMPERED GLASS HD SCREEN PROTECTOR SHATTER AND SCRATCH RESISTANT - IPHONE 5/5S/5C
IHIP TEMPERED GLASS HD SCREEN PROTECTOR SHATTER AND SCRATCH RESISTANT - IPHONE 5/5S/5C
FOLLOW ME ON TWITTER
Typically ships within 1 to 4 Hours!
Description:

Having a shatterproof glass to lay on the top of your beautiful iPhone is a must. Even with a phone case around the phone, you never want to take the chance with something landing on the top of the screen, cracking the most important part. This shatterproof tempered glass is so strong, yet so thin you won't even notice that it is on the phone. The easy to installation makes it easy for anyone to be able to use it, while built to last.  UPC:811725021306
iHip Tempered Glass HD Screen Protector - Shatter and Scratch Resistant - iPhone 5/5s/5c
Tempered Glass Screen Protector for iPhone 5/5s/5c 
Tempered Glass Screen Applicator 
Dust-Wipe, Scratch-Free, Dry Cloth 
Dust Removal Tapes & Wipes 
Shatter-Proof / Scratch Resistant / HD Clarity 
Easy to Install 
Built to Last 
Will not let you down!
Directions:
Instructions: . Instructions:. Insert Phone into Easy Applicator. Clean the device screen thoroughly, make sure the surface is completely dry before you apply the screen protector. Peel off a small portion of the mask labeled step 1 (This side is applied to the screen). Align and apply the exposed portion along one side of the screen, lift and reapply until correct, peel off the rest of the mask and slowly brush down.
PRICES ARE BASED ON WHAT I PAY + $0.50 PER ITEM, SO PRICES MAY VARY FROM ORDER TO ORDER THANK YOU KEN