HOPPE'S 12 GAUGE QUICK CLEANING BORESNAKE W/BRASS WEIGHT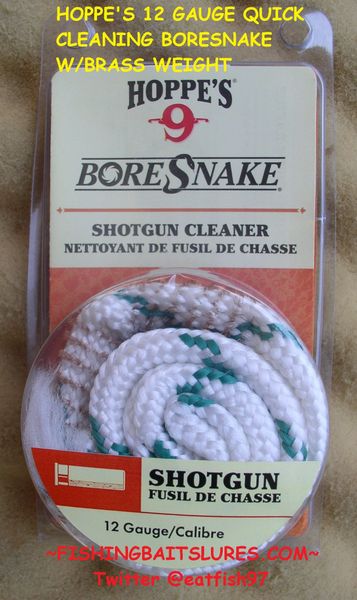 HOPPE'S 12 GAUGE QUICK CLEANING BORESNAKE W/BRASS WEIGHT
HOPPE'S 12 GAUGE QUICK CLEANING BORESNAKE W/BRASS WEIGHT
FOLLOW ME ON TWITTER 
Description:
Brass weight slips through barrel. Grasp and pull cleaning cord through the bore. Floss area to remove foreign particles prior to scrubbing action of brush. Bore brush embedded in the cord loosens hard deposits.
UPC:026285240351, UPC:026285240337, UPC:026509019299
Allen Bore-Nado Barrel Cleaner 20 ga.
Description:

The Bore-Nado barrel cleaning rope makes taking care of your firearm easy. Simply add solvent of your choice to the cleaning rope and clean from breach to muzzle in a single stroke, repeating as necessary until clean. The small end of the rope has a weighted brass bore guide to make guiding the rope through your firearm easy. The vortex bristle technology uses copper brushes to blast fouling and debris as it passes through your barrel, and the built-in braided swab sweeps it away. Keep in your range bag or gun case for quick clean up jobs.
Grey/Black
20 ga.
Weighted brass bore guide
Vortex bristle technology
Braided swab
Manufacturer: Allen Cases
Model: 70586
Remember FREE Shipping on orders of $25 or more!