HEDDON SALTWATER ONE KNOCKER SPOOK $7.99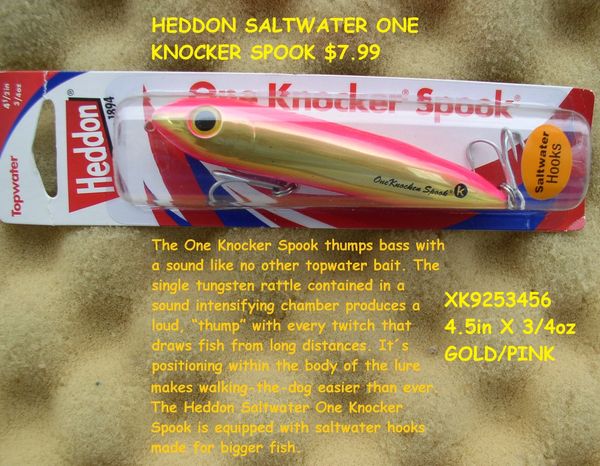 HEDDON SALTWATER ONE KNOCKER SPOOK $7.99
HEDDON SALTWATER ONE KNOCKER SPOOK
FOLLOW ME ON TWITTER
Typically ships within 1 to 4 Hours!
Description:
The One Knocker Spook thumps bass with a sound like no other topwater bait. The single tungsten rattle contained in a sound intensifying chamber produces a loud, "thump" with every twitch that draws fish from long distances. It´s positioning within the body of the lure makes walking-the-dog easier than ever. The Heddon Saltwater One Knocker Spook is equipped with saltwater hooks made for bigger fish.

UPC:025436043308, UPC:025436043230

PRICES ARE BASED ON WHAT I PAY + 10% PER ITEM, SO PRICES MAY VARY FROM ORDER TO ORDER THANK YOU KEN