GRIME BOSS UNSENTED HAND & EVERYTHING WIPES WITH POWER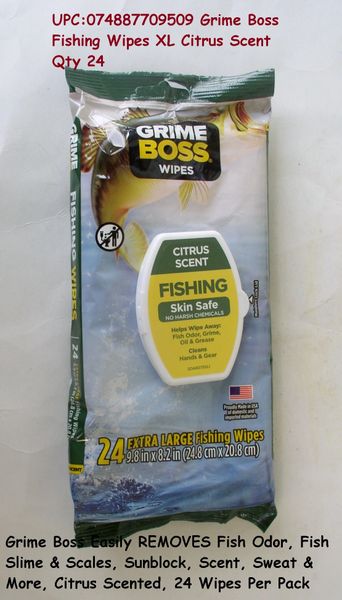 GRIME BOSS UNSENTED HAND & EVERYTHING WIPES WITH POWER
GRIME BOSS UNSENTED HAND & EVERYTHING WIPES WITH POWER

Description:

Grime Boss Unscented Hand Wipes Tough-side's scrubby material helps clean hard-to-remove gunk
Smooth side is gentle enough for hands and face Ultra-Moisturizing Formula contains aloe and vitamin E
Skin safe – uses no heavy-duty or harsh chemicals to clean
UPC:074887662705, UPC:702458650003, UPC:074887709509

Grime Boss and Realtree have teamed up to create the perfect wipes for those who love the outdoors. Whether hunting, fishing, camping or hiking, Grime Boss Unscented Hand Wipes clean up any mess on skin, tools and other surfaces. Grime Boss extra-large wipes easily clean, odors, mud and dirt, grease, hunting gear, fishing equipment, gun oil and residue and more. Won't dry out. Double-sided design is soft enough on one side for sensitive skin and tough enough on the other to scrub away stubborn gunk. Formulated with moisturzing aloe and vitamin E, plus they don't contian any harsh chemicals. Made in USA.
Available: 24-pack, five-pack.
D-Funk Fish-Odor Removal Wipes Qty 5.6 Oz. 30 Pouch
Fish Odor Removal! Fish-D-Funk Odor Removal Wipes removes fish stink from your hands and leave your hands smelling fine, not fishy! Fish-D-Funk's exclusive "Double Down" technology works two ways; it neutralizes and it counteracts odors at the molecular level! No other wipes can do that! 30 wipes in resealable pouch. Made in USA.
Brand: D-Funk

PRICES ARE BASED ON WHAT I PAY + $0.50 PER ITEM, SO PRICES MAY VARY FROM ORDER TO ORDER THANK YOU KEN