GAMAKATSU CATFISH RIG 6/0 HOOKS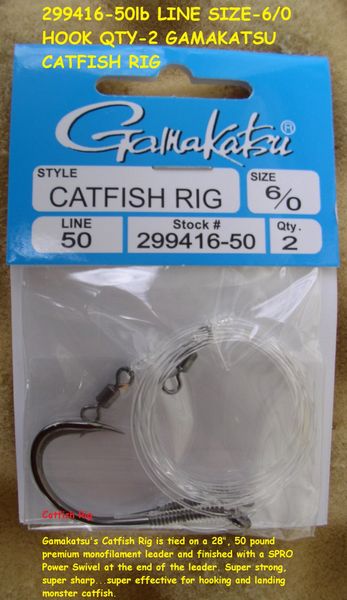 GAMAKATSU CATFISH RIG 6/0 HOOKS
GAMAKATSU CATFISH RIG 6/0 HOOKS
FOLLOW ME ON TWITTER
Typically ships within 1 to 4 Hours!

OK while your at play on the water tie this to a two liter pop bottle and catch dinner it works yummy !
Description:
Gamakatsu's Catfish Rig is tied on a 28", 50 pound premium monofilament leader and finished with a SPRO Power Swivel at the end of the leader. Super strong, super sharp...super effective for hooking and landing monster catfish. 
UPC:089726101420, UPC:856633005055, UPC:032784593942
Specifications:
- Type: Rig
- Size: 6/0
- Weight: 50# ln
- Quantity Per Package: 2
Mfg No: 299416-50
Manufacturer: Gamakatsu
SINGLE HOOK RATTLING CAT FISHING FLOAT RIG

Specifications:
    Non-painted indestructible  2.5" high buoyancy body
    6/0 high-carbon chemically sharpened WST Offset Octopus
Circle hooks
    WST EZ-Rig Fast Clips for 5 second "no tool" hook changes
    AFW Supreme 65# 7x7 stranded nylon coated wire
    Noise rattling 3D fiber optic beads
    WST barrel swivel
RED RIG #CRRCAT3 Used for Red Drum, Catfish, and Flounder
PRICES ARE BASED ON WHAT I PAY + $0.50 PER ITEM, SO PRICES MAY VARY FROM ORDER TO ORDER THANK YOU KEN