G. LOOMIS GLX CRANKING CASTING ROD GREEN 481C CBR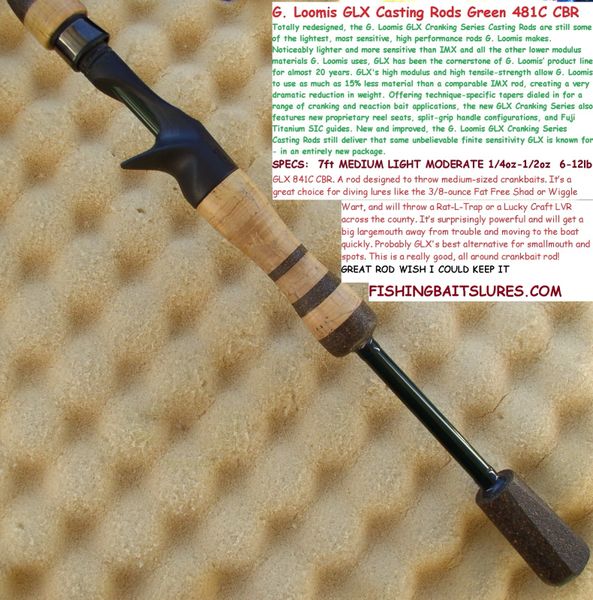 G. LOOMIS GLX CRANKING CASTING ROD GREEN 481C CBR
G. LOOMIS GLX CRANKING CASTING ROD GREEN 481C CBR

Totally redesigned, the G. Loomis GLX Cranking Series Casting Rods are still some of the lightest, most sensitive, high performance rods G. Loomis makes. Noticeably lighter and more sensitive than IMX and all the other lower modulus materials G. Loomis uses, GLX has been the cornerstone of G. Loomis' product line for almost 20 years. GLX's high modulus and high tensile-strength allow G. Loomis to use as much as 15% less material than a comparable IMX rod, creating a very dramatic reduction in weight. Offering technique-specific tapers dialed in for a range of cranking and reaction bait applications, the new GLX Cranking Series also features new proprietary reel seats, split-grip handle configurations, and Fuji Titanium SIC guides. New and improved, the G. Loomis GLX Cranking Series Casting Rods still deliver that same unbelievable finite sensitivity GLX is known for - in an entirely new package.
UPC:601040015780
SPECS 841C CBR 7ft MED LIGHT ACTION MODERATE 1/4-1/2oz  6-12lb

Taper    Line Wt.    Lure Wt.    Guides    Handle Type    Handle Length
Moderate    8-14lb    1/4-1/2oz    9+Tip    GLX Crank B      14-1/2"