FLAMBEAU 2926SL Med BLUE RIBBON FLY BOX (Grey, 5x3.75x1.65-Inch) (Swing Leaf)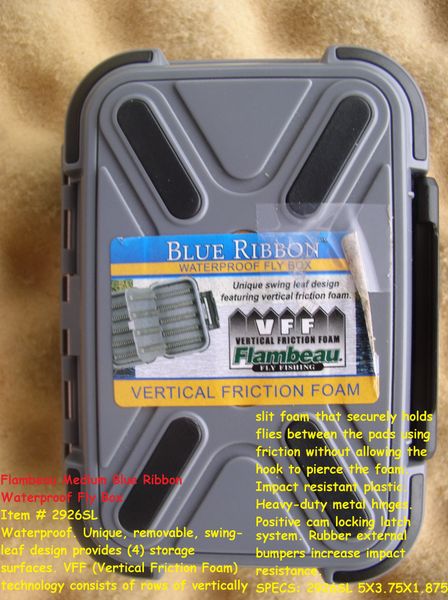 FLAMBEAU 2926SL Med BLUE RIBBON FLY BOX (Grey, 5x3.75x1.65-Inch) (Swing Leaf)
FLAMBEAU 2926SL Med BLUE RIBBON FLY BOX (Grey, 5x3.75x1.65-Inch) (Swing Leaf)
Description
Waterproof. Unique, removable, swing-leaf design provides (4) storage surfaces. VFF (Vertical Friction Foam) technology consists of rows of vertically slit foam that securely holds flies between the pads using friction without allowing the hook to pierce the foam. Impact resistant plastic. Heavy-duty metal hinges. Positive cam locking latch system. Rubber external bumpers increase impact resistance.
UPC: 071617006389
Manufacturer: Flambeau
Model: 2926SL
Country Of Origin: Made in CN
Remember FREE Shipping on orders of $25 or more!