FISH BAIT LIVE ADULT CRICKETS, 3/4 WINGLESS, BABY 1/4 SIZE REPTILE FOOD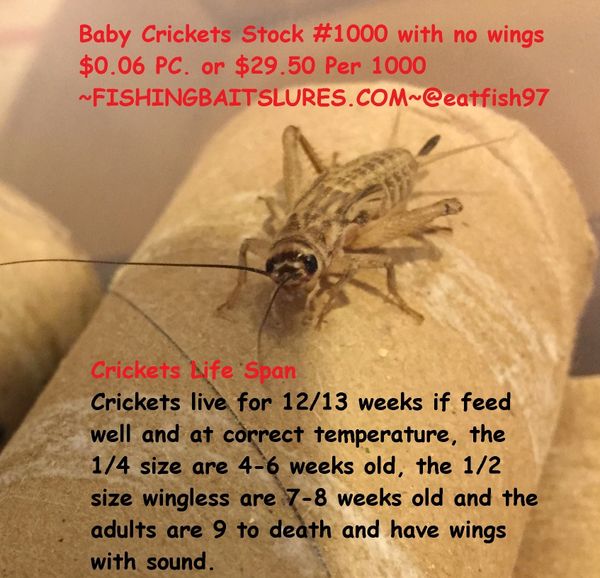 FISH BAIT LIVE ADULT CRICKETS, 3/4 WINGLESS, BABY 1/4 SIZE REPTILE FOOD
FISH BAIT LIVE ADULT CRICKETS, 3/4 WINGLESS, BABY 1/4 SIZE REPTILE FOOD
*IMPORTANT -!

NO SHIPPING! YOU MUST USE SELECT PICK UP IN PERSON FOR DELIVERY OPTION TO ELIMINATE  SHIPPING CHARGES. THANKS, KEN
Product Details:

Live Bait For Fishing  CALL OR TEXT ME AT 9803297503
When it's below 75 degrees by order only !  (Order By Tuesday Noon Time For Wednesday Pick Ups) 
I will deliver within a ten mile area at a cost of $6.50 thanks for your busyness.
NO SHIPPING USE PICK UP ON THE WAY TO LAKE ONLY FOR SHIP PREFERENCE THANKS KEN
ADULT CRICKETS
1/2 TUBE=40/50 CRICKETS
1 TUBE=90/100 CRICKETS
WINGLESS CRICKETS

1/2 TUBE=50/65 CRICKETS
1 TUBE=110/125 CRICKETS
1/4 SIZE CRICKETS
1/2 TUBE=250/300 CRICKETS
1 TUBE=590/625 CRICKETS
Hi so you know they have a "collar" right behind the head. Hook it through the collar--run the point of your hook just under the collar from the back of the head toward the tail--not too deep or you'll kill the cricket. 
Then fish it like a worm. You can free line it or hang it under a bobber with a small split shot several inches above the hook. Happy fishing and take the kids and give them great memories thanks Ken
Live feeder insects, particularly crickets, are a staple of many popular pet lizard diets.
Crickets Life Span
Crickets live for 12/13 weeks if feed well and at correct temperature, the 1/4 size are 4-6 weeks old, the 1/2 size wingless are 7-8 weeks old and the adults are 9 to death and have wings with sound. 

PRICES ARE BASED ON WHAT I PAY + 10% PER ITEM, SO PRICES MAY VARY FROM ORDER TO ORDER THANK YOU KEN