EXTREME LEADER MATERIAL 300 LB TOURNAMENT GRADE MONOFILAMENT CLEAR LINE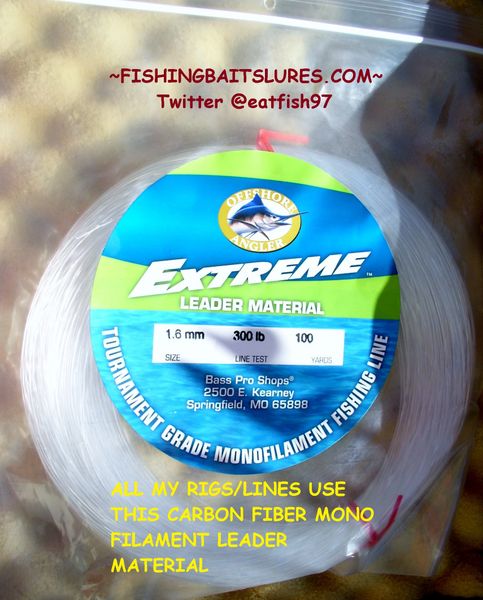 EXTREME LEADER MATERIAL 300 LB TOURNAMENT GRADE MONOFILAMENT CLEAR LINE
EXTREME LEADER MATERIAL 300 LB TOURNAMENT GRADE MONOFILAMENT CLEAR LINE

Description
Offshore Angler introduced Extreme Fluorocarbon in 1996, and quickly gained a strong following by making it affordable for the average angler. And today, anglers all over the world are discovering the advantages of using fluorocarbon leader material. This amazing filament, because of its minimal light-reflective qualities, is less visible to fish, resulting in more bites for its diameter than mono. In addition, the multiple carbon fiber construction allows a shredded leader to retain even more strength, whereas the slightest nick in your mono-filament leader is usually the kiss of death. The word is out -- Extreme Fluorocarbon outperforms mono time and time again for more fishing success. And what fisherman worth his salt wouldn't want to ratchet his success level up a few notches?
UPC:726439830475, UPC:726439830239, UPC:096337150068
JINKAI FISHING LINE .81 MM DIA / 80 LB TEST / 100 YARDS COIL LEADER GREEN
Born out of a love for fishing, a driving commitment to quality, and a genius for technical innovation, JINKAI is a wholly unique and superior fishing line, representing a breakthrough in monofilament technology. All monofilament lines may look somewhat similar, but the formulations and techniques used in their manufacture produce widely varying results, evidenced in actual performance. As all great fishermen know, a trophy fish will test the line to its maximum potential, and JINKAI is up to that test every time.
The dynamic patented process by which JINKAI is produced and precise blending of just the right nylons are the secrets that have unleashed a line with extraordinary capabilities. As the line is extruded, nylon molecules are polarized to maintain a soft center with a tight outer surface. This allows JINKAI to remain sensitive and responsive, yet provides incomparable toughness and strength in micro-fine diameters.The result is an unbeatable combination of the most ideal qualities.
Features:
Powerful tensile and knot strength
Perfect softness and sensitivity
Low stretch for greater control
Unequaled resistance to abrasion
Minimal change from dry to wet test strength
Impressively small diameters and greater reel-fill capacity
Remember FREE Shipping on orders of $25 or more!