Eagle Claw Trokar #TKMINIPROMO2 25- Pack Assortment Hook OR Kit for Neko Rigging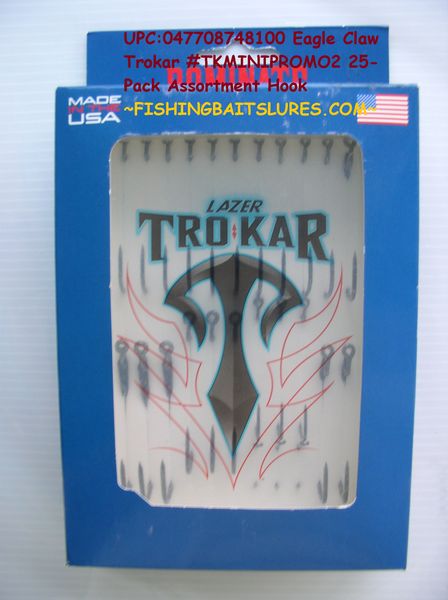 Eagle Claw Trokar #TKMINIPROMO2 25- Pack Assortment Hook OR Kit for Neko Rigging
Eagle Claw Trokar #TKMINIPROMO2 25- Pack Assortment Hook OR Kit for Neko Rigging

A convenient and compact way to carry hooks, the Lazer Trokar Hook Case features customized slotted foam and a hard plastic case for easy transportation. Neatly organizing your hooks for technique specific storage, the Lazer Trokar Hook Case is a handy way to keep the hooks accessible at a moments notice.  UPC:047708748100, UPC:047708789561

Dimensions: 4.5" X 6"
Highest quality angler gear for all types of fishers
Trusted for reliabilty, durability, and strength
Quality and field tested to ensure you can complete with the best
25 hooks per pack
THE ONLY HOOKS IN THE WORLD THAT ARE SURGICALLY SHARPENED. The three-sided point penetrates twice as fast as other point shapes, allowing for dramatically increased hook-up ratios.
Trokar points are precisely ground for consistent performance using Surgically Sharpened Technology, a process that only Trokar holds the patent for. It results in a strong point that is twice as sharp and penetrates with half the effort.
BOLSTERED WIRE DIAMETER giving serious anglers a stouter hook that allows for aggressive hook-sets and intense fights
LOW-PROFILE BARB designed for easier penetration, yet ultimate holding power. The precise angle of the barb was determined using highly specific geometric calculations
TEMPERING PROCESS specifically tailored to manipulate the molecular structure of the Q741 wire, bringin out the maximum strength potential of the ultra-high carbon steel.
#TKNKIT NEKO RIGGING FINESSE KIT 46-PACK ASSORTMENT
FEATURES:
    46-piece Neko rigging kit
    Lead nail sinkers (1/32 and 1/16 oz.)
    Neko weedless and non-weedless hooks
    Wacky rigging tool
    Extra o-rings

    Brand: Eagle Claw
    Style: TKNKIT
Neko Rig - Everything You Need To Know
NEKO rigging tricks to make catching bass easier


PRICES ARE BASED ON WHAT I PAY + $0.50 PER ITEM, SO PRICES MAY VARY FROM ORDER TO ORDER THANK YOU KEN