EAGLE CLAW POWERLIGHT SWIVELS BLACK BARREL WITH HYPER SNAPS Md#:SLPHBK-10 SIZE-10 35 LB QTY-8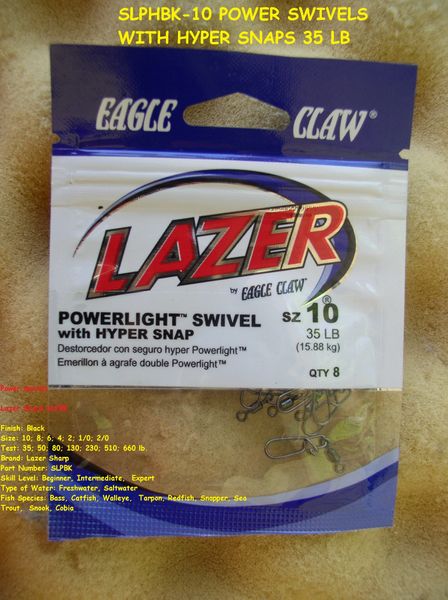 EAGLE CLAW POWERLIGHT SWIVELS BLACK BARREL WITH HYPER SNAPS Md#:SLPHBK-10 SIZE-10 35 LB QTY-8
EAGLE CLAW POWERLIGHT SWIVELS BLACK BARREL WITH HYPER SNAPS Md#:SLPHBK-10 SIZE-10 35 LB QTY-8
FOLLOW ME ON TWITTER
Typically ships within 1 to 4 Hours!

If your buying one pack wait or ask for invoice & save 1.00$ on shipping no tracking thanks Ken
Description:

Because they are up to four times stronger than other swivels of comparable size, you can use a smaller swivel without compromising strength. Holding power is enhanced by the design of the Hypersnap system that adds to the overall strength of the swivel. 
Color: Black.
UPC:047708714327, UPC:047708714303
PRICES ARE BASED ON WHAT I PAY + $0.50 PER ITEM, SO PRICES MAY VARY FROM ORDER TO ORDER THANK YOU KEN