EAGLE CLAW POWER SWIVELS BLACK BARREL WITH HYPER SNAPS Md#:SLPHBK-6 SIZE-6 70lbs QTY-8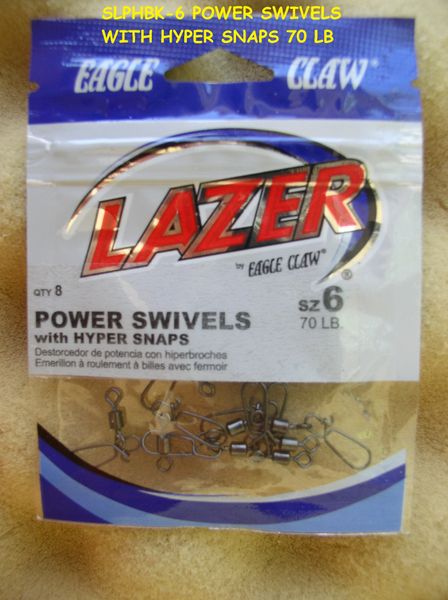 EAGLE CLAW POWER SWIVELS BLACK BARREL WITH HYPER SNAPS Md#:SLPHBK-6 SIZE-6 70lbs QTY-8
EAGLE CLAW POWER SWIVELS BLACK BARREL WITH HYPER SNAPS Md#:SLPHBK-6 SIZE-6 70lbs QTY-8

If your buying one pack wait or ask for invoice & save 1.00$ on shipping no tracking thanks Ken
Description:

Because they are up to four times stronger than other swivels of comparable size, you can use a smaller swivel without compromising strength. Holding power is enhanced by the design of the Hypersnap system that adds to the overall strength of the swivel. 
Color: Black.
UPC:047708714341

Remember FREE Shipping on orders of $25 or more!