EAGLE CLAW BASS HOOK ASSORTMENT 67-PACK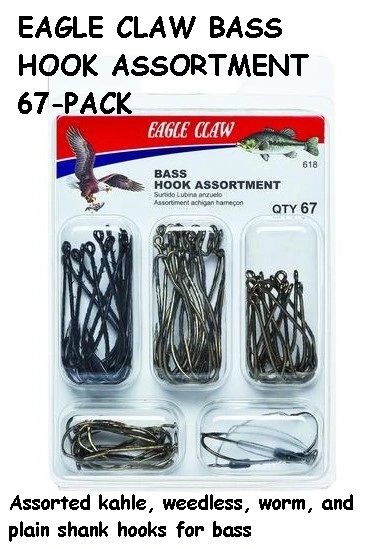 EAGLE CLAW BASS HOOK ASSORTMENT 67-PACK
EAGLE CLAW BASS HOOK ASSORTMENT 67-PACK
FOLLOW ME ON TWITTER
Typically ships within 1 to 4 Hours!
 Assorted kahle, weedless, worm, and plain shank hooks for bass
UPC:047708140645
Part:618H
FEATURES:
This Bass Hook Assortment includes a variety of hooks in different sizes to ensure you have what you need when fishing.
The Eagle Claw Bass Hook Assortment features 67 hooks.

PRICES ARE BASED ON WHAT I PAY + 10% PER ITEM, SO PRICES MAY VARY FROM ORDER TO ORDER THANK YOU KEN