EAGLE CLAW BARREL SWIVELS WITH SAFETY SNAP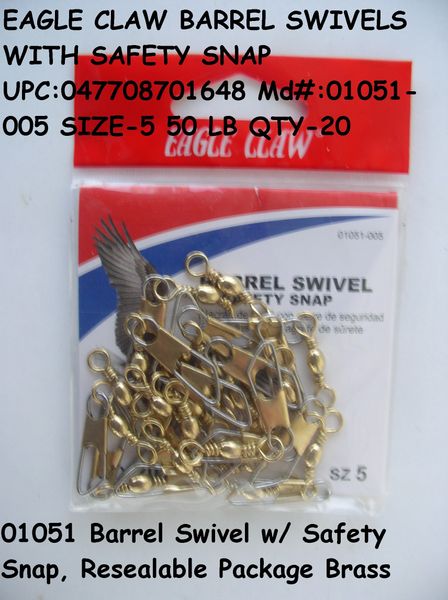 EAGLE CLAW BARREL SWIVELS WITH SAFETY SNAP
EAGLE CLAW BARREL SWIVELS WITH SAFETY SNAP
If your buying one pack wait or ask for invoice & save 1.00$ on shipping no tracking thanks Ken

Description:

When searching for a quality fishing swivel to eliminate line hassle, look no further than the Eagle Claw Barrel Interlock Snap Swivel. The quality constructed swivel was designed to eliminate line twists and guarantee smooth movement. Featuring a solid ring and safety snap, this is a great addition to your tackle for the next fishing excursion.   UPC:047708701693, UPC:047708707824, UPC:047708701709, UPC:047708701716, UPC:047708701723, UPC:047708701730, UPC:047708701648, UPC:047708708821, UPC:047708708807, UPC:047708701624
FEATURES:
Quality construction
Guarantees smooth movement
Eliminate line twists
Solid ring and safety snap
Pack Qty: 20
Model: 0105
Brand: Eagle Claw
Country of Origin: Imported
MORE SWIVELS FROM LAND OF LURES
Remember FREE Shipping on orders of $25 or more!