DOA SM-336 SWIMMING MULLET 5in/1-1/4oz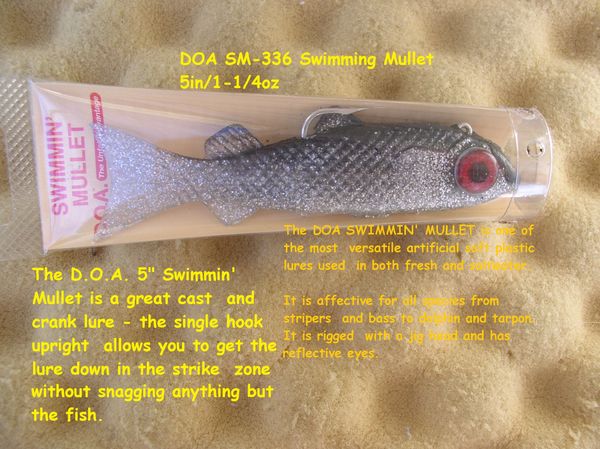 DOA SM-336 SWIMMING MULLET 5in/1-1/4oz
DOA SM-336 SWIMMING MULLET 5in/1-1/4oz

Typically ships within 1 to 4 Hours!
Description:
The D.O.A. 5" Swimming' Mullet is a great cast and crank lure - the single hook upright allows you to get the lure down in the strike zone without snagging anything but the fish. UPC:097834503364, UPC:097834503104

The DOA SWIMMING' MULLET is one of the most versatile artificial soft plastic lures used in both fresh and saltwater.
It is effective for all species from strippers and bass to dolphin and tarpon. It is rigged with a jig head and has reflective eyes.
Cobia Fishing Destin Florida with DOA Swimming Mullet
PRICES ARE BASED ON WHAT I PAY + $0.50 PER ITEM, SO PRICES MAY VARY FROM ORDER TO ORDER THANK YOU KEN