DOA JUMBO 6in 1oz SOFT PLASTIC SHRIMP FISHING LURE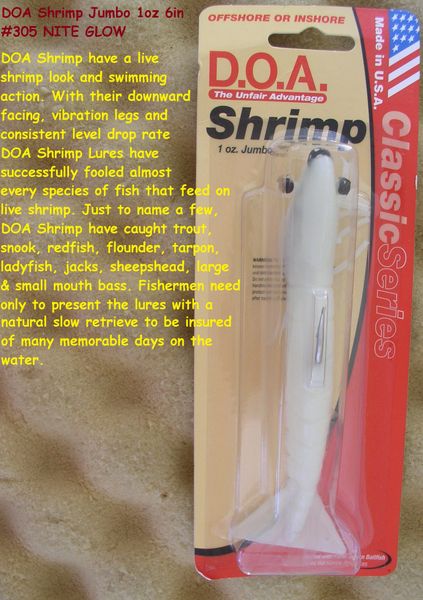 DOA JUMBO 6in 1oz SOFT PLASTIC SHRIMP FISHING LURE
DOA JUMBO 6in 1oz SOFT PLASTIC SHRIMP FISHING LURE
Description:
DOA Shrimp have a live shrimp look and swimming action. With their downward facing, vibration legs and consistent level drop rate DOA Shrimp Lures have successfully fooled almost every species of fish that feed on live shrimp. Just to name a few, DOA Shrimp have caught trout, snook, redfish, flounder, tarpon, ladyfish, jacks, sheep's head, large & smallmouth bass. Fishermen need only to present the lures with a natural slow retrieve to be insured of many memorable days on the water. UPC#097834203059, UPC:097834203134, UPC:097834203127
DOA shrimp rigging and info from Mark Nichols   
Remember FREE Shipping on orders of $25 or more!