DOA Deadly Combo OVAL #368 Clear Red Glitter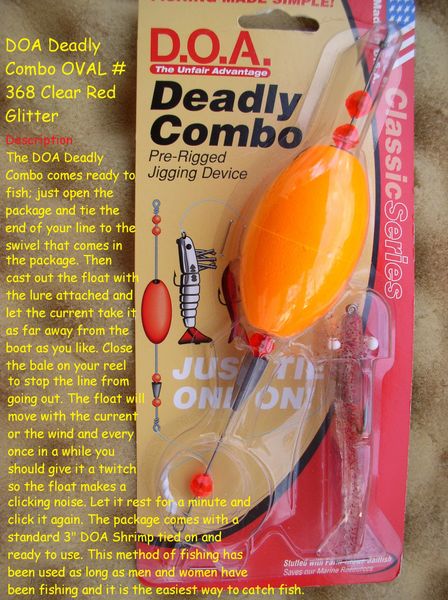 DOA Deadly Combo OVAL #368 Clear Red Glitter
DOA Deadly Combo OVAL #368 Clear Red Glitter
Typically ships within 1 to 4 Hours!
Description
The DOA Deadly Combo comes ready to fish; just open the package and tie the end of your line to the swivel that comes in the package. Then cast out the float with the lure attached and let the current take it as far away from the boat as you like. Close the bale on your reel to stop the line from going out. The float will move with the current or the wind and every once in a while you should give it a twitch so the float makes a clicking noise. Let it rest for a minute and click it again. The package comes with a standard 3" DOA Shrimp tied on and ready to use. This method of fishing has been used as long as men and women have been fishing and it is the easiest way to catch fish.  UPC:097834613681 
Where are the speckled trout? We found them!

PRICES ARE BASED ON WHAT I PAY + $0.50 PER ITEM, SO PRICES MAY VARY FROM ORDER TO ORDER THANK YOU KEN