DOA CAL FISHING PINCH WEIGHT SINKERS GREAT USE FOR WEIGHTING EWG HOOKS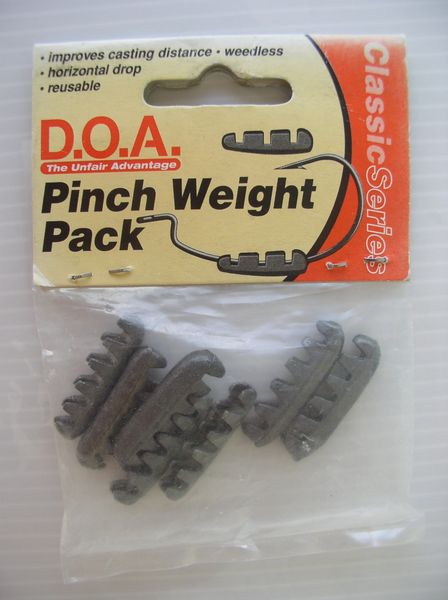 DOA CAL FISHING PINCH WEIGHT SINKERS GREAT USE FOR WEIGHTING EWG HOOKS
DOA CAL FISHING PINCH WEIGHT SINKERS GREAT USE FOR WEIGHTING EWG HOOKS
Description

Doa Cal Pinch Weight 1/4oz 7 Per Pk Red #Cal Pw14 Red 097834660012
Doa Cal Pinch Weight 1/8oz 8 Per Pk Red #Cal Pw18 Red 097834650013

Doa Cal Pinch Weight 1/4oz 7 Per Pk #Cal Pw14 097834660029
Doa Cal Pinch Weight 1/8oz 8 Per Pk #Cal Pw18 097834650020
Pinch Weight Red or plane 8 / 7 Pack by D.O.A.. Soft Lead Allows the Angler to "Pinch" Weights on the Base of Our Long Neck Hooks. This Allows for Excellent Casting Distance and Gets Your C.A.L. To Catch Fish, Not the Bottom.
UPC:097834660012, UPC:097834650013, UPC:097834660029, UPC:097834650020
Features:
Made with precision and quality in mind
Built to last
Designed to meet your specific needs.
Remember FREE Shipping on orders of $25 or more!