Coleman Portable Propane Lantern 2 Mantle Mi, Deluxe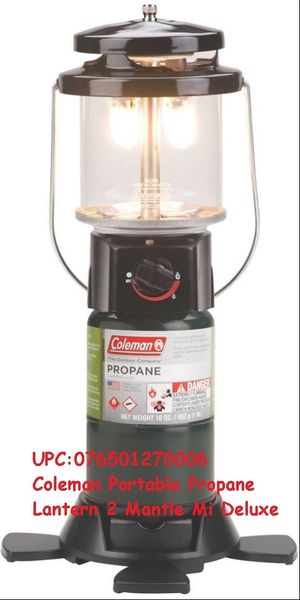 Coleman Portable Propane Lantern 2 Mantle Mi, Deluxe
Coleman Portable Propane Lantern 2 Mantle Mi, Deluxe
Coleman Portable Propane Lantern 2 Mantle MI, Deluxe
Reliable, extended-run outdoor illumination can be yours with the Coleman Deluxe PerfectFlow Lantern. With an extra-bright light output of 967 lumens on high and an impressive 7-hour runtime, using only one tank of fuel, the Coleman Deluxe PerfectFlow Lantern provides consistent, even lighting anywhere, anytime. Featuring PerfectFlow technology, an adjustable dimmer knob and a unique footed base, the Coleman Deluxe PerfectFlow Lantern is your travel-worthy companion for a night under the stars. UPC:076501270006
Features:

- Rents For $5 a Night
- Extra-bright 967 lumens on high
- 7-hour runtime on high, 13 hours on low using one tank of fuel
- Adjustable dimmer knob for the perfect outdoor light
- Matchlight, includes mantles
- PerfectFlow System for consistent fuel, no matter the conditions
- Unique footed base helps increase stability and folds up for compact storage
Mfg No: 2000006544
Manufacturer: Coleman
UPC:014045324182 Coleman 1lb Propane Cylinder
UPC:076501000030 Lantern Generator For Lantern Models #220 #228 #275
Description:
Make sure you're always ready to take on the great outdoors with this 1 lb Propane Cylinder from Coleman. You can power a propane stove, tabletop grill or propane torch with this propane tank by attaching the pipe to the valve on the propane cylinder securely. This propane cylinder is a must-have for all your camping or outdoor activities. Coleman ensures that safety is top priority with this 1 lb Propane cylinder. Save 1 lb of propane as a fuel refill cylinder, or use it as a fresh tank of gas for your first outdoor adventure of the year.
Highlights:
    Portable propane cylinder from Coleman is perfect for camping or outdoor activities
    Includes 1 gas refill tank that holds 1 lb cylinder of propane in universal-sized bottle
    Propane cylinder is perfect for use with a propane stove, tabletop grill, propane torch, or any portable propane appliance
UPC:076501203547 Coleman Standard TIE ManTLE 21A102
        Consistent performance with Coleman lanterns
        Includes two mantles
Coleman Standard Tie-On Lantern Mantles deliver consistent performance from your lantern. Standard shape tie-on style. Per two. 
Mantles fit lantern models: 200, 201, 214, 220, 275, 285, 286, 288, 290, 295, 5107, 5114, 5150, 5151, 5152, 5153, 5154, 5155, 5159, 5177, 5178, 9950, 9960, 2000003048, 02000003049, 2000003050, and 2000003051.
-----------------------------------------------------------------------------------------------------------------------------
UPC:076501213683 Coleman #51 Slip-On Rosette Lantern Mantle
Replacement slip on mantle for Coleman lanterns.
Fits lantern models: 3018, 3023, 2112, 5130, 5132, 5133, 5134, 5136, 9742.
PRICES ARE BASED ON WHAT I PAY + $0.50 PER ITEM, SO PRICES MAY VARY FROM ORDER TO ORDER THANK YOU KEN