Cold Steel Bowie Machete 18" Carbon Blade, Polypropylene Handle, Nylon Sheath #CS97BW18S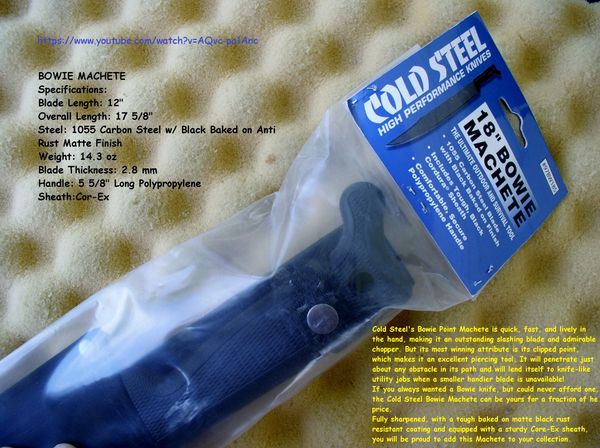 Cold Steel Bowie Machete 18" Carbon Blade, Polypropylene Handle, Nylon Sheath #CS97BW18S
Cold Steel Bowie Machete 18" Carbon Blade, Polypropylene Handle, Nylon Sheath #CS97BW18S
FOLLOW ME ON TWITTER
Typically ships within 1 to 4 Hours!
DESCRIPTION

CS97BW18S: Cold Steel Bowie Machete w/Carbon 18" Blade and Polypropylene Handle with Sheath
Cold Steel
The Bowie Point Machete is quick, fast and lively in the hand, which makes it an outstanding slashing blade and admirable chopper. But its most winning attribute is its clipped point, which makes it an excellent piercing tool. It will penetrate just about any obstacle in its path and will lend itself to knife-like utility jobs when a smaller handier blade is unavailable. It comes complete with a Cordura sheath.
Specifications
18" Model
Weight: 23.3 oz.
Thickness: 3mm
Handle: 5 5/8
Overall: 23 5/8"
Handle: Polypropylene
Nylon Sheath Included
UPC Code: 705442006770
Cold Steel - Bowie Machete
https://youtu.be/AQvc-pa1Anc
PLEASE ASK FOR A INTERNATIONAL SHIPPING PRICE IF NEEDED
PRICES ARE BASED ON WHAT I PAY + $0.50 PER ITEM, SO PRICES MAY VARY FROM ORDER TO ORDER THANK YOU KEN