Chisco/Chums Chums Slip Fit 3mm Rope Eyewear Retainer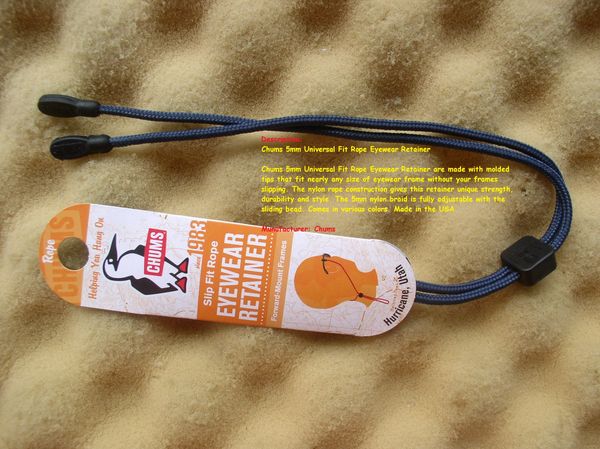 Chisco/Chums Chums Slip Fit 3mm Rope Eyewear Retainer
Chisco/Chums Chums Slip Fit 3mm Rope Eyewear Retainer

Description
Chums Slip Fit 3mm Rope Eye wear Retainer slides over your eye wear frames to provide a forward-mounted style. The nylon rope construction provides unique strength and durability, while the adjustable bead allows you to easily find the perfect spot for your shades. Durable perlon cord measures 23 inches of usable length. Fits small to medium frames. Made in the USA.
Manufacturer: Chums
Model: 1212110 & 1210301-3mm rope Fits all sizes of eyewear Universal fit system
FEATURES
Designed for standard small & medium frames
Streamlined
Dutable molded rubber
Length: 23 inches
Made in USA

UPC:000298101052
Remember FREE Shipping on orders of $25 or more!