CHATTER BAIT FLASH BACK MINI SILVER BLUE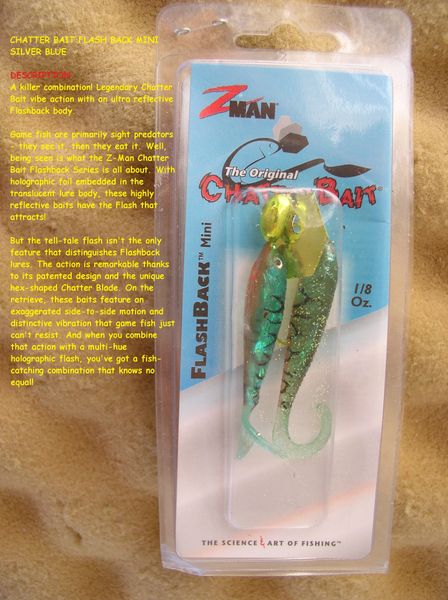 CHATTER BAIT FLASH BACK MINI SILVER BLUE
CHATTER BAIT FLASH BACK MINI SILVER BLUE

DESCRIPTION
A killer combination! Legendary Chatter Bait vibe action with an ultra reflective Flashback body.

Game fish are primarily sight predators - they see it, then they eat it. Well, being seen is what the Z-Man Chatter Bait Flashback Series is all about. With holographic foil embedded in the translucent lure body, these highly reflective baits have the Flash that attracts! UPC:879020000389

But the tell-tale flash isn't the only feature that distinguishes Flashback lures. The action is remarkable thanks to its patented design and the unique hex-shaped Chatter Blade. On the retrieve, these baits feature an exaggerated side-to-side motion and distinctive vibration that game fish just can't resist. And when you combine that action with a multi-hue holographic flash, you've got a fish-catching combination that knows no equal!
PRICES ARE BASED ON WHAT I PAY + $0.50 PER ITEM, SO PRICES MAY VARY FROM ORDER TO ORDER THANK YOU KEN