CHATTER BAIT BIG FISH SERIES 8/0 HOOK W/EZ SKIRT OLD STOCK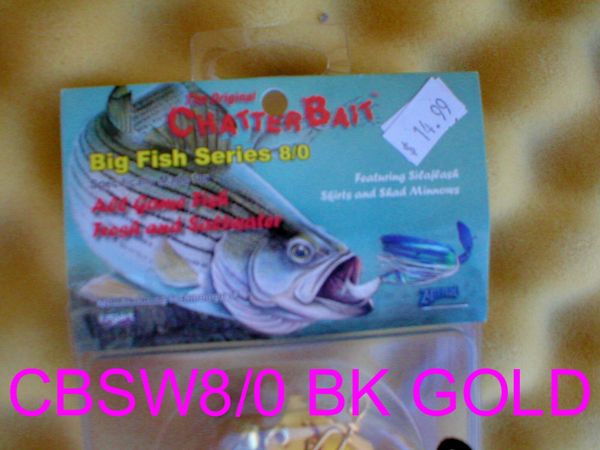 CHATTER BAIT BIG FISH SERIES 8/0 HOOK W/EZ SKIRT OLD STOCK
CHATTER BAIT BIG FISH SERIES 8/0 HOOK W/EZ SKIRT OLD STOCK

Description

This amazing lure from Z-Man offers the action of a crank bait, the profile of a jig, and the flash of a spinner bait. The Big Game Series features a unique hex-shaped Chatter Blade and patent-pending design, the Chatter Bait Big Game is unmatched in sound, vibration, and visual appeal. Features all the fish-attracting power of the Original Chatter bait in a large size specifically targeted at muskies, pike, stripers, and other king-size game fish.
UPC:046169201124, UPC:879020001508
Features
Z-Man Fishing Homepage: http://www.zmanfishing.com
Technical Specs
Weight - 1 oz
Includes one 8/0 hook and one 4-1/2" Flashback curly-tail minnow trailer that matches the skirt color.

Extended Information

We've been asking Z man for some big muskie sized chatter baits for a while now and finally, here we go! These are at nearly half price! Don't wait or this big chatter bait will be gone!
Remember FREE Shipping on orders of $25 or more!