CALCUTTA FLASHFOIL SHAD FF04PF 4-INCH 5-PACK PIN FISH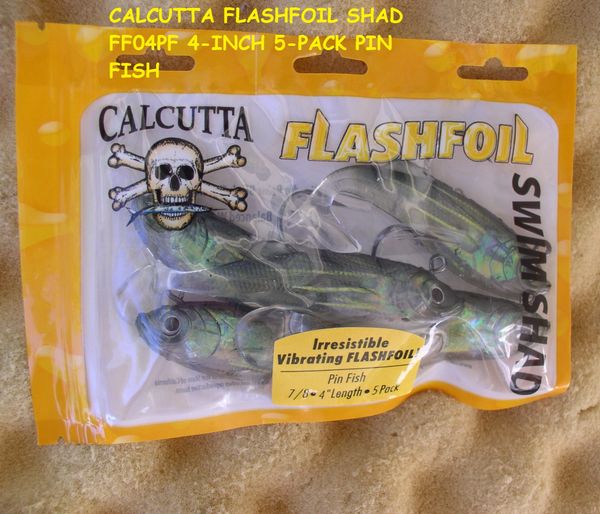 CALCUTTA FLASHFOIL SHAD FF04PF 4-INCH 5-PACK PIN FISH
CALCUTTA FLASHFOIL SHAD FF04PF 4-INCH 5-PACK PIN FISH

Description

Calcutta Fishing Flashfoil Shad Lure drives hungry fish crazy with it's unique tempting features. The Calcutta Fishing Flashfoil Shad Lure's tail vibra-action, coupled with a perfect body weight, emulates a live fish. Calcutta Fishing Flashfoil Shad Lure ensures a secure catch with its sharper black chromed hooks. With holographic live eyes, raised gill plates and vibrant body color, the Calcutta Fishing Flashfoil Shad is one of the most realistic looking lures on the market today.

UPC:768721395286
SPECS: FF04PF PIN FISH
Specifications:
• Manufacturer: Calcutta Fishing
• Model: Flashfoil Shad Fishing Lure
• Manufacturer Number: FF04PF
Features:
• Black Chromed Hooks
• Tail Vibra-Action
• Holographic Live Eyes
• Raised Gill Plates
• Body Length: 4 Inches
• Body Weight: 7/8 Ounce
• Quantity: 5 Per Pack
• Color: Pin Fish
SLIDE/SHOW- http://s222.photobucket.com/user/eatfish97/slideshow/CALCUTTA%20FLASHFOIL%20SHAD
Remember FREE Shipping on orders of $25 or more!