C & H LURES KING BUSTER PERFECT FISH CATCHER KINGFISH/DOLFIN/TUNA/SAILFISH/WAHOO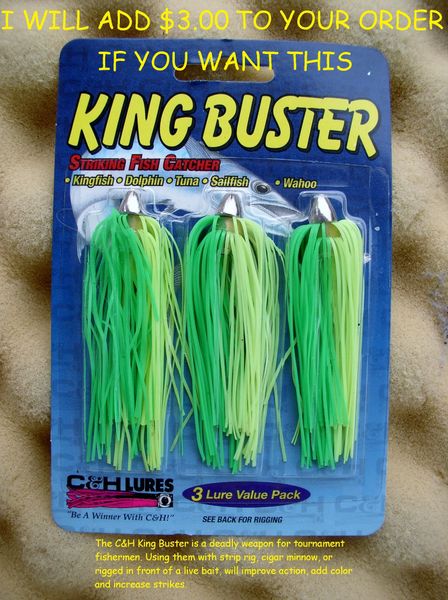 C & H LURES KING BUSTER PERFECT FISH CATCHER KINGFISH/DOLFIN/TUNA/SAILFISH/WAHOO
C & H LURES KING BUSTER PERFECT FISH CATCHER KINGFISH/DOLFIN/TUNA/SAILFISH/WAHOO

Description:
The C&H King Buster is a deadly, money-making weapon for tournament king fishermen. Used with a strip rig, cigar minnow, ballyhoo or rigged in front of live bait, the King Buster will improve action, adds color and increases strikes. Durable vinyl skirt material. Troll between 2 and 6 knots. 3 per pack.
UPC:023644101421, UPC:023644112045, UPC:023644112229, UPC:023644112267, UPC:023644112137, UPC:023644112199, UPC:092229161600, UPC:092229161563, UPC:092229161617, UPC:092229161549, UPC:092229161594

Features and Benefits

Manufacturer C&H
Color Chart/Green Firetail
Model KB-42
Options CHT/GRN FIRETAIL 3PK
Size 3 Pack
Remember FREE Shipping on orders of $25 or more!